---
September 29, 2013
Day 234 Guantánamo hunger strike
19 Gitmo prisoners on strike, 18 force-fed, 0 in hospital (track hunger strike)
---
September 26, 2013
by 
Michael Keller
 and 
Jason Leopold
 | September 26, 2013
For the past seven months, detainees at Guantanamo Bay detention camp have been on hunger strike protesting, in part, their indefinite detention and alleged mistreatment. Although this action has been one of the most widely publicized, it's certainly not the first. Hunger strikes started almost immediately after the camp was opened 11 years ago and have continued regularly since then. This timeline documents the evolving role of hunger strikes as a form of protest.
---
September 25, 2013
---
By Heather Marsh
Omar Khadr made his first appearance in a Canadian court on Monday. After an 11-year journey from Afghanistan to Guantánamo Bay to Canada's Millhaven Institution, the Toronto-born man is now in Edmonton's federal prison. He was 15 when he was captured and tortured at Bagram. He turned 27 last Thursday.
Read more: http://www.vice.com/read/omar-khadr-war-criminal-child-soldier-or-neither
---
 Rules for (hunger-striking) radicals
By Nadine Bloch
Over the past few months, an amazing number of people have been fasting or on hunger strike for peace and justice all over the world, earning relatively sparse media coverage, and winning few demands. But this current wave of hunger strikes has expanded the traditional approach to these tactics and offers a look at some new techniques — as well as challenges for those who are currently fasting or thinking about using their hunger as a path to justice.
Read more: http://wagingnonviolence.org/feature/rules-hunger-striking-radicals/
---
Tripoli, 25 September 2013:
A former Libyan Guantanamo Bay inmate has been released from prison in the US and is due to arrive at Tripoli International Airport this evening.
Abdulhamid Abdussalam El Ghazzawi, aged 50 and said to be disabled, was kept at the controversial prison between 2002, when he was captured in Afghanistan, and 2010, when he was transferred to Georgia.  He was accused by the Americans of being a member of the Libyan Islamic Fighting Group and being linked to Al Qaeda, a claim which he has denied.
Read more: http://www.libyaherald.com/2013/09/25/freed-former-guantanamo-inmate-to-arrive-today/#ixzz2fyrHn1Pz
---
You know something is wrong when defense lawyers have to hike to Starbucks to find Internet access they feel they can—relatively, anyway—trust. But that's exactly what lawyers for the five men accused of plotting the September 11, 2001 attacks felt they had to do after widespread failures of the government computer network they'd been using resulted in thousands of private defense emails being handed over to the prosecution and entire files disappearing from defense team drives. That series of undeniable security breaches, they argued, made even a public Internet connection a better option than the government network.
Read more: http://tv.msnbc.com/2013/09/25/guantanamo-system-failure/
---
Guantánamo detainee files complaint about UK security services
Eman El-Shenawi – Al Arabiya
---
The mass wave of prisoner hunger strikes at Guantanamo Bay cannot be considered over, a Pentagon spokesman said on Tuesday, following an outcry over media reports suggesting the protest had largely ended.The official statement to Al Arabiya English came after Guantanamo authorities on Monday saidthe number of hunger-striking prisoners had fallen in recent weeks, and that daily updates on detainees refusing food would no longer be issued.
Read more: http://english.alarabiya.net/en/News/world/2013/09/24/Pentagon-No-one-believes-Guantanamo-hunger-strike-is-over-.html
---
Little Progress in the Four Months Since Obama's Promise to Resume Releasing Cleared Prisoners from Guantánamo
By Andy Worthington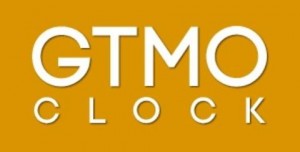 Four months ago, on May 23, President Obama delivered a major speech on national security issues, in which he promised to resume releasing cleared prisoners from Guantánamo. At the time, of the remaining 166 prisoners, 86 had been cleared for release in January 2010 by an inter-agency task force of officials from the major government departments and the intelligence agencies, which the president had established shortly after taking office in January 2009.
Read more: http://www.closeguantanamo.org/Articles/102-Little-Progress-in-the-Four-Months-Since-Obamas-Promise-to-Resume-Releasing-Cleared-Prisoners-from-Guantanamo#sthash.puFiHsYx.dpuf
---
September 23, 2013
Pentagon will no longer provide media updates on hunger strike according to Jason Leopold.
http://www.twitlonger.com/show/n_1rovc85
---
Witness Against Torture looking for October rolling fasters. Send e-mail to [email protected] with which day you would like to fast.
Reflection shared from Katie Berrigan (granddaughter of Philip Berrigan)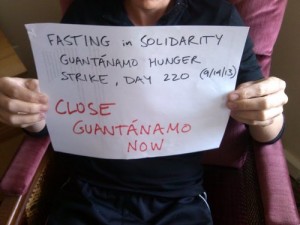 To change my normal routine by not eating was a strong reminder of the men imprisoned at Guantanamo, and the discomfort of 24 hours without food seemed incredibly small in comparison to what I know of their experiences. We read a recent opinion piece from Al-Jazeera talking about the long list of broken promises and crimes against humanity the U.S. government has racked up between Bagram prison and Guantanamo. Though it's a small gesture on this end, it was also meaningful to me to read the list of prisoners' names and hold each person in my thoughts for a little while.
---
A letter from Shaker Aamer shared from wife, Johina Aamer.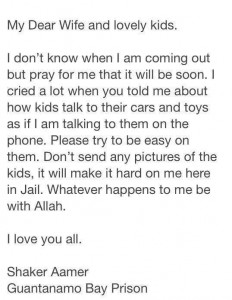 An old letter from Shaker Aamer to us. TAKE ACTION for Shaker Aamer and request a FULL parliamentary debate. Contact your MPs. Template provided here >http://www.saveshaker.org/write-to-your-mp-request-full-parliamentary-debate-for-shaker-aamer/464
You can send the email to your MP via http://www.theyworkforyou.com/mp/ Please remember to click the confirmation link you will receive in your inbox afterwards. Or send a handwritten letter.
---
Omar Khadr set to make first public appearance tomorrow during Edmonton court hearing
By: Michelle Shephard National Security Reporter, Published on Sun Sep 22 2013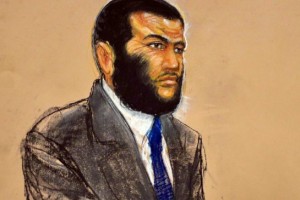 EDMONTON—Former Guantanamo detainee Omar Khadr is expected to make his first public appearance in Canada Monday morning, transferred amid tight security to an Edmonton courthouse where his lawyer will argue he is being held illegally as an adult.
Read more: http://www.thestar.com/news/world/2013/09/22/omar_khadr_set_to_make_first_public_appearance_tomorrow_during_edmonton_court_hearing.html
---
National opinion: Moving prisoners from Cuba is the best chance for justice
With Congress back in session, Montana Sens. Max Baucus and Jon Tester will soon consider whether to adopt new provisions in a defense-spending bill allowing Guantanamo Bay detainees to be transferred to the U.S. for trial by federal courts.
After years of passing restrictions on such transfers, these new provisions, proposed as part of the 2014 National Defense Authorization Act (NDAA), are the first sign of any significant movement in Congress toward bringing the deeply flawed military commissions system at Guantanamo to an end.
Read more: http://www.greatfallstribune.com/article/20130922/OPINION/309220024/National-opinion-Moving-prisoners-from-Cuba-best-chance-justice
---
September 20, 2013
By Jane Sutton
GUANTANAMO BAY U.S. NAVAL BASE, Cuba | Fri Sep 20, 2013 9:38pm EDT
(Reuters) – The judge in the Guantanamo war crimes tribunal recessed a weeklong hearing in the September 11 conspiracy case on Friday evening without ruling on a defense request to halt future hearings until Pentagon computer problems are fixed.
The judge, Army Colonel James Pohl, said he would issue a decision "in due course." The next pretrial hearing in the death penalty case against five suspected al Qaeda conspirators is scheduled to start on October 22 at the Guantanamo Bay U.S. Naval Base in Cuba.
Read more: http://www.reuters.com/article/2013/09/21/us-usa-guantanamo-idUSBRE98K00T20130921
---
September 18, 2013
Pentagon defense counsel: Guantánamo tech woes are worse
Miami Herald, Posted on Wednesday, 09.18.13 — By CAROL ROSENBERG  [email protected]
GUANTANAMO BAY NAVY BASE, Cuba — Chronic problems of Pentagon computer network insecurity have gotten worse in the five months since the military commissions chief defense counsel declared the system too compromised for Sept. 11 trial preparations, the counsel testified Wednesday.
Emails don't arrive, legal motions have been stripped off electronic notices and case work that vanished has yet to be found, Col. Karen Mayberry testified in a defense bid to freeze the death-penalty proceedings until the Pentagon builds a separate, secure system for the war crimes court's defense lawyers.
In an act of exceptional defiance in April, Mayberry, a career Air Force lawyer, directed her defense teams to keep their confidential work off the war court network. Wednesday, she testified that, after fresh failures in an email migration, it's currently better for defense teams in the complex death-penalty case to use their home computers, private emails and coffee shop WiFi to conduct their business.
"We've got more issues now than we did then and we've resolved very little of the ones that existed at the time," Mayberry said.
---
Ex-Guantánamo detainee dies fighting Assad in Syria
Miami Herald, Posted on Wednesday, 09.18.13 — By CAROL ROSENBERG  [email protected]
GUANTANAMO BAY NAVY BASE, Cuba – An Islamic opposition group in Syria has posted a video of the funeral of a former Guantánamo prisoner, the first known report that one of the 500 or so captives released during the Bush administration joined the Syrian insurgency to topple Bashar Assad.
The Syrian Islamic Movement posted the video Monday on 
YouTube
. It shows the body of a fallen fighter in his 30s or 40s and a rebel leader, Sheik Abu Ahmad al Muhajir, eulogizing the man as Mohammed al Alami, a Northwest African veteran of the jihad in Afghanistan "who went through hardship for the sake of God in the prison of the Americans in Guantánamo for five years."
---
September 16, 2013
Passing Time in the World's Most Notorious Prison
Molly Crabapple Artist, VICE columnist. Writing memoir, DRAWING BLOOD, for Harper Collins. Words for Paris Review, Daily Beast, CNN, The Guardian. www.mollycrabapple.com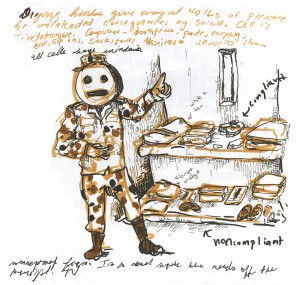 September 16, 2013 – A Jamaican love song plays at Guantanamo Bay's tiki bar. The woman cries that she will wait for her man forever. I drink my beer and think of Zin, the wife of British detainee Shaker Aamer. It's been eleven years since the Northern Alliance arrested Shaker. Though not charged with any crime, he sits in a solitary cell a few miles from the tiki bar. Zin Aamer is still waiting.
Guantanamo Bay is where people wait. A faded relic of The War on Terror, four of its eight camps stand empty for lack of prisoners. Called "contrary to who we are" by President Obama, it costs nearly 2 million dollars per detainee per year to operate. Of the 779 men who have passed through, only 7 have been convicted of crimes. 164 remain. According to the chief prosecutor, 144 will never be charged at all.
Ringed with razor-wire, Guantanamo practices a security culture so rigorous that when a journalist accidentally left an iPod in his bag, our press escort worried that the guards who confiscated it would have to smash it with a hammer. Guards peer at each detainee through cell cams every three minutes. Detainees are moved between camps in shackles and sometimes on backboards, something a guard told me was for "their safety" but could not explain how. Their genitals are searched before and after they use the phone.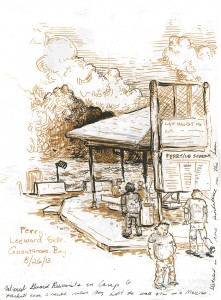 But for all the security theater, on press tours, Guantanamo feels like a dollhouse without the dolls. Detainees are conspicuous in their absence. Military police walk me through kitchens, a hospital, and show-cells. Cooks prepare six sample meals (including garlic chicken) just for me to taste. Medics lecture next to the restraint chair they use for force-feedings. In empty cells, guards arrange neat rows of "comfort items" (Koran, toothbrush, soap, comb, prayer cap, Rubbermaid bin for likely-futile legal papers) representing the detainees' only possessions.
Guantanamo is the world's most notorious prison, but we see the detainees' lives as if through dark water. To know them, we have a fewleaked assessments, a few administrative review board transcripts — some tribunal president telling a British prisoner "I don't care about international law." The rest sinks into classification. In Gitmo, even the library stamps are secret.
Read more: https://medium.com/the-nib/6076fd7f2500
---
Protesting 9/11 defendants, sick defense attorney shut down Guantánamo hearing
Miami Herald – Posted Monday, 09.16.13 By CAROL ROSENBERG  

[email protected]
GUANTANAMO BAY NAVY BASE, Cuba — The judge in the Sept. 11 case shouted down two alleged conspirators protesting their lack of rights, ejected one from the war court and then hastily recessed Monday morning to get a sick defense lawyer to the Navy base hospital.
"I have a right to talk," Yemeni defendant Ramzi bin al Shibh shouted at the judge, Army Col. James Pohl.
"No you don't," the judge shouted back, trying to silence him before ordering U.S. Army guards to remove him from the Top Secret court.
Bin al Shibh, 41, was on his feet, unshackled, shouting at the judge and attired in a desert camouflage jacket atop a traditional white robe when two soldiers pinned his arms behind his back and hustled him out of court
Moments before, the alleged 9/11 mastermind, Khalid Sheik Mohammed, 48, appeared to be reading an Arabic-language protest of military obstacles to meeting with his lawyers. The judge shut him down with a ruling that Mohammed lost the right to voluntarily absent himself from this week's pretrial hearing by not answering his questions.
Read more:
http://www.miamiherald.com/2013/09/16/3630135/judge-to-weigh-whether-911-case.html#storylink=cpy
---
September 13, 2013
Truth-Out, Thursday, 12 September 2013 — Palina Prasasouk, CloseGitmo.net | Op-Ed
On Friday, September 6, 2013 dozens witnessed in front of the White House, a live force-feed of 52-year-old Andres Conteris on his 61st day of a water-only hunger strike. Thousands more would watch from home via livestream,  RT and Huffington Post. Conteris began a hunger strike on July 8, 2013 in solidarity with Guantánamo Bay and the California prison, Pelican Bay. Among the dozens of witnesses was a crowd of international press covering the event. American press was absent with the exception of Ryan J. Reilly, a justice reporter for The Huffington Post who earlier this spring, traveled to Guantánamo.
Read more: http://truth-out.org/speakout/item/18788-keeping-guantanamo-on-american-minds
---
September 12, 2013
OpEdNews.com – Don't Forget the Prisoners in Guantanamo and Those in Solidarity with Them
Ann Wright (author of Voices of Conscience) Dissent:Voices of Conscience (video) 
September 12, 2013 - While Syria dominates the news now, let's not forget about the prisoners in the U.S. military prison at Guantanamo Prison. Two prisoners were released from the military prison in Guantanamo, Cuba, without fanfare on August 28, the first releases since the Obama administration freed two Muslims of Uighur ethnicity and sent them to live in El Salvador on April 2012. On Sept 29, 2012, Canadian Omar Khadr was sent to his home nation of Canada to complete a seven-year prison sentence after his conviction by the military commission of while as a 15 year old, shooting at American soldiers as they attacked the compound of family members in Afghanistan.
On August 28, Nabil Hadjarab and Mutia Sadiq Ahmad Sayyab, both Algerian citizens, were released from Guantanamo and transported to Algeria.  Hadjarab, now 34, was captured in Afghanistan on suspicion of being a low-level al-Qaida fighter. He was sent to Guantanamo in February 2002. He had been eligible for release since 2006 and took part in hunger strikes at Guantanamo because of his continued imprisonment.
Sayyab, now 37, who had worked as a chef in France and Syria, was arrested in Pakistan as a part of the U.S. bounty program in which hundreds of foreigners were sold to the U.S. after the U.S. invasion of Afghanistan. Sayyab also was cleared for release years earlier but, due to congressional restrictions on transfers, had to remain at Guantanamo. Sayyab also had joined in hunger strikes at the prison to call attention to the prisoners' indefinite detention.
There are 164 prisoners who still remain at Guantanamo; 84 have been cleared for release but still remain locked up.
September 5, 2013, marked day 209 of the hunger strike by prisoners at Guantanamo. 34 prisoners continue on the hunger strike and 31 are being force-fed through tubes in the nose to the stomach. Two months ago, 106 prisoners were on a hunger strike, 46 were being force fed and 3 prisoners were hospitalized.
Solidarity Actions
Solidarity actions for the prisoners have taken place around the world citing indefinite detention without trial, no release for years after prisoners are cleared for release and painful forced nasal-gastric feeding tubes shoved up the nose of prisoners on long-term hunger strikers and dangerously pushed down into their stomachs.
Weekly vigils take place around the United States. In Washington, DC, each Friday Witness Against Torture holds a vigil in front of the White House.
http://youtu.be/35VYODjyykU
Video: Willy Cortes, teleSUR
On June 26, a large national mobilization at the White House ended with 21 people arrested for refusing to move from in front of the President's residence. One protester, Diane Wilson, climbed the White House fence and attempted to sit on the fence, but fell into the White House grounds.
Wilson had been on a water-only hunger strike for 58 days. She was arrested and tried on September 6 for unlawful entry. She was found guilty of unlawful entry on September 6 and sentenced to 90 days in jail, but the sentence was suspended.
Several other international activists have been on long term solidarity hunger strikes.  Cynthia Papermeister of Berkeley, California ended her 82-day, 300-calorie-per-day liquid hunger strike, on September 6 with the release of the Algerian prisoners.  Elliot Adams of Sharon, New York, was on a 300-calorie hunger fast for 80 days from May 18 to August 4, 2013.
Tarak Kauff of Woodstock, New York, was on a 300-calorie hunger fast for 58 days from June 7 through August 4, 2013.  Brian Willson of Portland, Oregon, suspended his hunger strike on June 10 after 31 days on a 300-calorie-per-day strike due to being accidentally hit by a car.
http://youtu.be/dhoHWSL9NdE
video – by Eddie Becker
Activist undergoes Nasogastric tube Feeding in Solidarity with Guantanamo Hunger Strikers
On September 6, Andres Conteris, who has been on a water-only hunger strike for 60 days, was voluntarily force fed with a nasal-gastric tube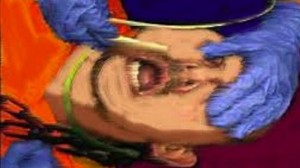 in front of the White House to demonstrate the painfulness of what 32 prisoners at Guantanamo are subjected to on a daily basis by US military medical personnel. Conteris said the forced feeding was "excruciatingly painful."  He said that he could not imagine how the Guantanamo prisoners who have been force fed for months can possibly stand the procedures as their nostrils and throats are swollen from constant pushing of the tubes down through the nose, throat and stomach.
Videos and photos of Sept. 6 White House feeding action
Hundreds of others throughout the world are on shorter solidarity hunger strikes.
Read more: http://www.opednews.com/populum/pagem.php?f=Don-t-Forget-the-Prisoners-by-Ann-Wright-Activists_Guantanamo-Prison_Prisoners_Solidarity-130912-236.html
---
---







by