http://www.yementimes.com/en/1687/news/2510/American-activists-praise-NDC-protest-US-foreign-policy.htm
American activists praise NDC, protest US foreign policy
SANA'A, June 20 — The organization of American activists Codepink wrapped up a week-long visit to Yemen on Tuesday, over the course of which they met with local human rights organizations, families of Yemeni prisoners in Guantanamo and those whose lives have been affected by American drone strikes as well as Yemeni officials and the American ambassador.
The group of seven Americans met with Hood, the Yemeni organization for human rights, and a number of other independent activists and staged a demonstration in front of the American embassy in protest of ongoing U.S. policies which affect this country, including the imprisonment of 86 Yemenis in the Guantanamo detention center in Cuba.
Of the total 166 prisoners being held in Guantanamo, over 100 are on hunger strike.
"The prisoners' health continues to deteriorate but we still have no action from President Obama," Codepink cofounder Medea Benjamin said in a press release. "That's just unacceptable."
A delegation of American activists from Codepink paid a similar visit to Pakistan earlier this year, another country in which American drones are regularly active.
Both visits present an alternative to conventional diplomacy, the organization stated on their website and offer a chance for Americans to stand in solidarity with countries affected by American foreign policy.
On Sunday, hundreds of local activists joined Codepink in front of the American embassy calling for the close of the detention center which was opened in 2002 to hold suspects in America's so-called war on terror.
Members of Codepink also met with Yemeni officials, including participants in the ongoing National Dialogue Conference. "The entire world is watching and supports your work," the activist group wrote in a letter addressed to NDC participants.
Codepink also appealed to NDC members to join them in combating a proposed amendment to the U.S. National Defense Authorization Act that would—if passed by the U.S. Senate and signed by President Barack Obama—prohibit any funds from the Department of Defense from being used to transfer or release Guantanamo detainees to either the Yemeni government or any entity or group in the country.
Most significantly, Codepink indicated in their letter, is the fact that this amendment could violate the sovereignty of Yemen, as a a rehabilitation center for Yemeni prisoners returning from Guantanamo is now in the works.
Codepink urged NDC members to draft a letter of protest to the U.S. House of Representatives and Senate, as this amendment, they said, could also violate the process of the ongoing national dialogue.
In addition to this visit to Yemen, two members of the activist group have also joined the Guantanamo prisoners in their hunger strike.
Co-founder Diane Wilson has been on a water-only fast since May 1 and Veterans for Peace member Brian Wilson and former president of Veterans for Peace, Elliott Adams have been fasting since May 12 and 17, respectively.
Wilson explained her reasons for fasting in May. "I stand in solidarity with the Guantanamo prisoners on their hunger strike," she wrote. "I will continue to fast indefinitely until justice comes."
CODEPINK Peace Delegation to Yemen to Meet with Drone Strike Victims, Families of Guantanamo Prisoners
During our delegation to Yemen this week, we met Awda, a sweet 12 year old who has never seen her father. Awda was in her mother's womb in 2001 when her dad, Abdulrahman Al Shabati, traveled to Pakistan to earn extra money as a teacher and was kidnapped and sent to Guantanamo Prison.
In Arabic, Awda's name means "come back." Please take a moment to help Awda bring her dad back from Guantanamo. He is one of the 86 prisoners cleared for release but still being held, and one of the many hunger strikers whose lives are at risk.
This week, President Obama appointed Clifford Sloan to reopen the State Department's Office of Guantanamo Closure. Let's tell Mr. Sloan that there's no time to wait. The families we met in Yemen are desperate. Awda needs to see her father, and Amal hasn't seen her son since he was 17. Ameena says her brother is so weak from the hunger strike that he looks like a skeleton with sunken eyes and a big, inflated nose from where the feeding tube is forced down his nostrils.
On June 26 we'll be out in front of the White House, 86 of us representing the 86 cleared prisoners. With us will be Diane Wilson, a CODEPINK cofounder who has been on a water-only hunger strike since May 1 in solidarity with the prisoners. Join us if you can, or show your support by sending a message to Clifford Sloan that this is an emergency and he must begin transferring the prisoners immeditely. It took a dramatic hunger strike to call the world's attention to the plight of these abused prisoners. Let's not wait until the tragic death of a hunger striker to force President Obama to move from words to action.
Peace,
Ann, Jodie, Medea, and Tighe
P.S. Our delegation to Yemen came back with many personal stories from Guantanamo families and families affected by US drone attacks. If you'd like to organize a report-back event in your community, email [email protected].
**************************
FOR IMMEDIATE RELEASE
Contact: Alli McCracken, (860) 575-5692, [email protected]
Rooj Alwazir, CODEPINK Yemen Coordinator, (240) 476-7724, [email protected]
June 6, 2013
CODEPINK Peace Delegation to Yemen to Meet with Drone Strike Victims, Families of Guantanamo Prisoners
Washington DC– This week 7 Americans announced their intention to travel to Yemen from June 11-18 on a peace delegation to meet with victims of US drone strikes and family members of Yemeni Guantanamo prisoners cleared for release. Yemen is the country with the most Guantanamo prisoners (86 of the 166 prisoners) and the most US drone strikes. Delegates are calling for relations between the U.S. and Yemen to be based on diplomacy and adherence to international law, not drone strikes and indefinite detention.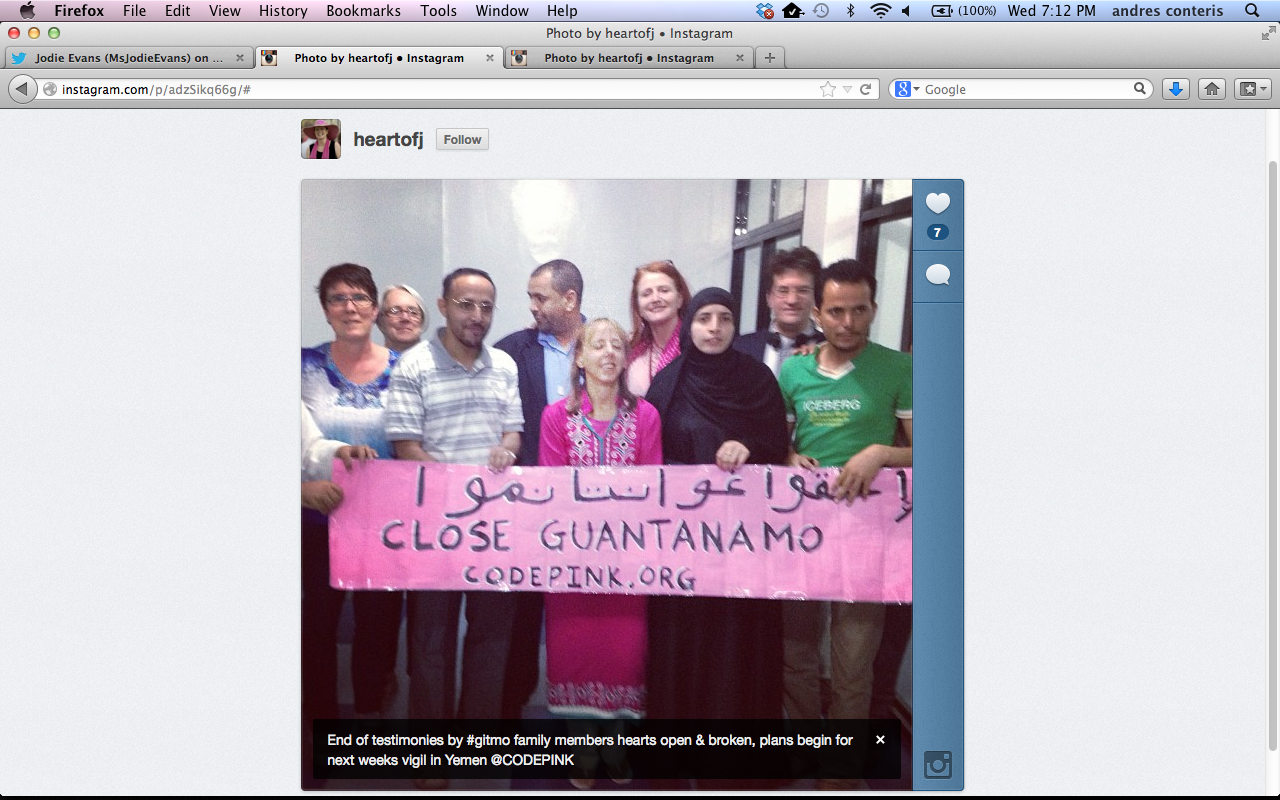 The delegation, organized by the U.S. group CODEPINK, will meet with government leaders, drone victim families, lawyers, academics, representatives of major Yemeni political parties and US officials. The delegation includes a woman who lost her sister in the 9/11 attacks and is a member of 9/11 Families for Peaceful Tomorrows; a retired Colonel and State Department official; political analysts; and the founders of CODEPINK. All understand the risks involved in traveling to a dangerous area, but are determined to stand in solidarity with Yemenis who suffer from a militarized U.S. foreign policy.
While in Yemen, the peace delegation will meet with family members of some of the 56 Yemeni prisoners in Guantanamo Bay who have been cleared for release, yet continue to be held. "We absolutely need to close Guantanamo Bay Prison," said Colonel Ann Wright of CODEPINK and Veterans for Peace. "President Obama can take action by immediately releasing the 86 prisoners who have been cleared for release, then formally charge and try the remaining prisoners in fair and open proceedings."
The delegation will also meet with survivors of American drone strikes, a military tactic that members of the delegation consider immoral, illegal and counterproductive. "It is long past time to stop the lethal drone strikes in Yemen," said CODEPINK co-founder Medea Benjamin, author of Drone Warfare: Killing by Remote Control. "The drone strikes have killed countless civilians, are a recruiting tool for extremists and spread anti-American sentiment. We are traveling to Yemen as citizen diplomats to show the people there that not all Americans support these policies of terror and assassination, and we know that peace cannot be achieved by dropping Hellfire missiles from Predator drones."
"By killing by remote control and locking people up indefinitely, we will be constantly creating new enemies and jeopardizing our national security," commented CODEPINK co-founder Jodie Evans. "Respecting human rights, international law and the guarantees provided in our Constitution is the best way to keep our nation secure."
Most of the group will leave the U.S. on June 9, arriving in Yemen on June 11th and staying until June 18.
Delegates can be reached for interviews by phone or email. Call or email Alli at CODEPINK to schedule interviews: 860 575 5692, [email protected].
- See more at: http://www.codepink4peace.org/article.php?id=6424#sthash.le1YX0a1.dpuf







by