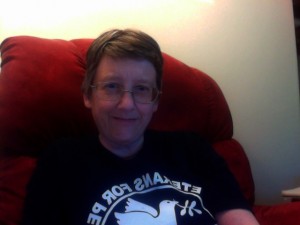 Dinah W. Danby, age 52, Seattle, began fasting on Thursday August 22nd (400 calories at first, have just shifted to 300 calories as Elliott mentioned that was the suggested amount from closegitmo for a hunger striker).
I am a Coast Guard veteran, a Franciscan, and a member of the Seattle Catholic Worker. I am a member of Veterans for Peace. I attend All Saints Episcopal church, where I help run a small food bank serving 125 people a week. I just wrote my first poem entitled "Make Tea Not War." Nothing else very interesting about me!
I am fasting in support of the hunger strikers at Gitmo because I believe they should not be held without due process, because I believe that the torture they have undergone is wrong, and because I believe that for every (possible) terrorist we hold there and abuse, we create 100 new (real) terrorists overseas due to the outrage the Arab world justifiably feels. Gitmo is a black eye on America and should be closed.
I also have written cards of support to the 20 detainees listed on the Amnesty website, and made all the phone calls. Seattle CW has not done anything public yet, but we are making plans, will update as it happens.







by