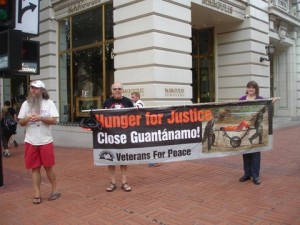 Beginning August 28, 2013, the Portland vigil will be a weekly rather than daily event, on Wednesdays from 4 to 6pm until further notice. The location has also changed, to the east side of Pioneer Courthouse Square.
---
Portland's August 1, 2013 Special Event
The Grotesque Injustice of Guantanamo: An Insider's Account
Thanks to Carrie R. Medina for capturing key parts of this important panel event and making  available on USTREAM:
1) Moderator Portland journalist Sarah Mirk Introduces panelists -
U.S. Navy veteran Laura Sandow, Vietnam veteran activist/author S. Brian Willson, and Steven T. Wax, chief Federal Public Defender for the District of Oregon – and begins program with a question.

2) Andy Worthington answers question via teleconference (bit of a glitch halfway through)
---
In late June (2013), Portland vigilers introduced street theater at a key downtown intersection, portraying an orange-suited Guantanamo prisoner in a wheelchair, with bound torso, arms, legs, and head, being force-fed with a tube through his nose by white-coated medical personnel protected by military guards.
Thanks to Tom Chamberlin for this:

Fast Tube by Casper
Additional video clips, attributed to Jacob Dean of Filter Free Radio (see below), were published on The Political Carnival blog.
High quality, uncut videos of this action are also available for viewing on Filter Free Radio's youtube channel:
Segment 1 | Segment 2 | Segment 3 | Segment 4
This solidarity vigil was launched in tandem with Brian Willson's solidarity fast. Brian's fasting has ceased for the time being, but the vigil continues indefinitely.
For more information contact Jenika at 503-515-4449 or Becky at 503-774-9197.
Find additional interviews and events featuring Brian Willson at: bloodonthetracks.info
On-site interviews at the vigil from Filter Free Radio:

Fast Tube by Casper

Fast Tube by Casper







by