July 12, 2013
Local man upset with treatment of detainees at base
By Dennis Yusko
Published 9:57 pm, Friday, July 12, 2013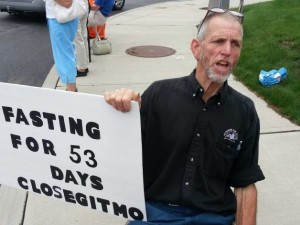 A gaunt Elliott Adams sat on a metal folding chair at the corner of Wolf Road and Central Avenue as protesters in orange jumpsuits and black hoods demanded the U.S. close its jail at Guantanamo Bay.
Adams, 66, has been fasting for six weeks in solidarity with prisoners at the U.S. naval base in Cuba, where about 106 of 166 wartime detainees refuse to eat and 45 are being force-fed by U.S. military personnel, according to media reports from this week.
http://www.timesunion.com/local/article/Using-hunger-as-weapon-of-protest-4663022.php
---
Albany, New York protest on July 11, 2013

Fast Tube by Casper
---
June 18, 2013
LegislativeGazette.com, Albany, NY
 June 18, 2013
Protesters in orange jumpsuits with black hoods covering their faces carrying signs saying, "Close Guantanamo," and "I am still waiting for change," wrapped in chains or cramped in a dog pen, lined the streets along the corner of Swan Street and Washington Avenue on Tuesday.
The group Veterans for Peace handed out flyers and demonstrated in costumes resembling prisoners' clothes to raise awareness about what they call the inhumane treatment of prisoners at Guantanamo Bay — specifically, force feeding fasting detainees and coercion to force detainees from exercising their right of habeas corpus.
"The situation is unacceptable," said Joe Lombardo, the co-coordinator for the National Antiwar Coalition. "It is like the NSA spying. It (the continuation of operations at Guantanamo) shows this is no longer a country of laws."
The demonstration was inspired by Elliott Adams, a man who has fasted for 33 days in a hunger strike to raise awareness about Guantanamo. Adams, who joined the Veterans for Peace in their demonstration, says he has had difficulty remembering things and has been sleeping more because he has less energy resulting from his fast.
"It comes down to whether you run up the stairs or walk up the stairs, I know every time I run up the stairs I am burning muscle," Adams said about how the fasting has affected his life.
http://www.legislativegazette.com
---
June 17, 2013
TruthOut Monday, 17 June 2013 10:13 By Medea Benjamin, Pink Tank | Interview
Unreported in the mainstream press is the dramatic long-term hunger strike by a group of Americans in solidarity with the hunger strikers in Guantanamo prison. The fasters include CODEPINK cofounder Diane Wilson (on a water-only fast since May 1) and former president of Veterans for Peace, Elliott Adams. Below is an interview with Elliott Adams, who began his hunger strike on May 17.
Benjamin: ….
The prisoners in Guantanamo are desperate. They see no sign that they will ever get out of that place. They've tried the legal route but now realize that even though the government has decided not to charge them and admits that they're not a threat to US national security, they're still going to be held. The only way they can see to get out is to starve themselves.  That is a level of desperation that Americans don't understand.  And instead of releasing them or giving them trials, the government is brutally force-feeding them.
It's disgusting. It's a violation of our moral and religious principles, international law, national law; it's a violation of the Declaration of Independence, the Constitution, the things that are supposed to define America. It goes against the very principles I thought the American flag stood for when I was a young man.
http://truth-out.org/news/item/17022-americans-on-long-term-hunger-strike-to-close-gitmo-prison
---
June 16, 2013
Blase Bompane interviews Elliott Adams & John Pope on KPFK's World Focus June 16, 2013 (30 min.)
Interview with Elliott Adams from minute 29:00 to 43:43. With John Pope from minute 43:44-57:05
http://archive.kpfk.org/mp3/kpfk_130616_100038worldfocus.MP3
---
June 11, 2013
Sharon activist on hunger strike to close Guantanamo
6/11/2013
Times Journal – The News of Schoharie County
By Patsy Nicosia
Elliott Adams, a longtime Sharon Springs activist and well-known anti-war protestor is 26 days into a hunger strike he hopes will help shut down the United States' military prison at Guantanamo Bay, Cuba.
And his fast couldn't be more timely-or maybe people are just starting to listen:
Sunday, Senator John McCain, a senior member of the Armed Services Committee, said he's working on plans that could close the prison and move its 166 detainees to a maximum-security prison in Illinois.
More than 100 of the prisoners at Guantanamo, most of who have been held without charges for more than a decade, have joined in a hunger strike to protest their fate and it's in a show of solidarity that Mr. Adams and others have joined the cause.
"We are trying to build a movement to create change," he said Monday-Day #24.
"We are outraged by what's happening at Guantanamo. It defies every moral and American principle. People need to force change. This is democracy."
Mr. Elliott, 65, has fasted for causes before-enough times that he can't remember how many-and so he's familiar with both the process and the dangers.
"The first day you're hungry, the second, your body starts adjusting," he said. "After that you're home free."
Unless you run into issues like heart arrhythmia, neurological changes, or kidney failure as your body starts to shut down.
He's already down nearly 30 pounds-about a pound for every day of the fast, living on 300 calories a day-that's a half cup of oatmeal-to keep his body going.
"I want to stretch it out [the hunger strike] at long as I can," he said. "Thirty days isn't enough to get anywhere, but if I can go twice as long…"
Though he's voluntarily using his fast as a way to draw attention to the situation at Guantanamo Prison, Mr. Adams said the detainees are fasting because they are desperate.
"These people were bought and sold by the United States and deliberately taken to a place where our laws don't apply," he said. "After 10 years, they don't see any other way out but in a pine box. Are they terrorists? Put them on trial. I have no problem with that. But it shouldn't take 10 years to build a case against them."
He's also angry that 41 of the detainees are now being force-fed through tubes inserted into their noses and down into their stomachs, calling it torture.
"It's clearly a freedom of speech issue," Mr. Adams said, "and we should all be affronted by it. They're hurting no one…This is not what America is about."
Mr. Adams said he hopes people will learn of his hunger strike and investigate the situation at Guantanamo themselves, then spread the word about what they learn.
"I don't expect our politicians to do something; change never happens that way," he said. "I expect us to make them do something. Call your Congressman or Senator, talk to everyone you know. This is democracy."
Mr. Adams' hunger strike has the support of his wife, Ann, who said she worries about his health, but is equally concerned about why he's doing it.
"The only problem I have with what he's doing is why he has to do it," she said. "People just aren't aware of what's going on [in Guantanamo]-and they're outraged when they realize."
Mr. Adams hasn't set a date for the end of his fast.
More information on what he and others are doing is available online at: Codepink4peace.org, Closeguantanamo.org, or Witnesstorture.org.
http://www.timesjournalonline.com/details.asp?id=83261
---
June 7, 2013
Hunger strike in solidarity with prisoners in Guantánamo

Fast Tube by Casper
Original article in Dutch. Hongerstaking uit solidariteit met gevangenen in Guantánamo 
ttp://www.dailygazette.com/news/2013/jun/04/0604_strike/
---
The Daily Gazette, (Schenectady, NY)
Sharon Springs man on hunger strike in solidarity with Guantanamo detainees by JOHN ENGER, Gazette Reporter
PHOTOGRAPHER: JOHN Elliott Adams scoops out a handful of oats from the 50 pound sack on his porch. He's been on hunger strike in solidarity with the prisoners of Guantanamo Bay since mid May, eating only a handful of oats each day.SHARON SPRINGS — Elliott Adams wasn't always so skinny.Three weeks ago, the Sharon Springs resident and past Veterans For Peace president had a sturdy 170-pound frame, but that was before he stopped eating. "You got to do what you got to do," he said, moving slowly through his house Monday afternoon.Adams is on hunger strike in solidarity with the suspected terrorists being held at Guantanamo Bay. He's hoping his actions will help sway the American public so strongly against the prison that the U.S. government will finally shut it down.More than 100 Guantanamo prisoners have been on hunger strikes for months with a similar goal in mind, but even after just 18 days, Adams showed clear signs of starvation.A button-down shirt and worn work pants hung slack around his body, the shape of his skull starting to make itself visible through his skin."I look at my legs and I think, 'Whose legs are those? ' " he said.In sentences slurred by a brain starved of calories, he laid out key components of his cause. No single event prompted the start of his hunger strike, but rather a critical mass of horrific news from the prison."What's going on is against international law," he said. "It's against U.S. law. It's against common law and it's against everything we like to believe this country stands for."He went on to say that many of the prisoners were never actually terrorists and have been cleared for transfer, "but there they still sit, with no proof against them, unable to see their lawyers without going through invasive searches designed to violate their religious beliefs."He means to bring attention to the cause with his own and the fasts of fellow activists Brian Willson and Diane Willson in Portland, Ore., and Washington, D.C., respectively. The problem is, hunger strikes work only with publicity and getting attention is taking longer than he thought."Right now we don't have the communication networks to really reach critical mass with the American people," he said.At his current rate of losing a pound and a half a day — hitting 149 pounds Monday morning — he said he'd "die before anything happened with Guantanamo."Staying aliveIn order to stay alive until people start to notice, certain precautions are necessary.In the small kitchen at the back of his house he readied one of his daily meals, filling an old pop bottle with water and a splash of Pedialyte, a cocktail of electrolytes designed to keep infants hydrated through bouts of diarrhea."I have to drink a gallon of water a day," he said. "The process of breaking down my muscles for fuel creates certain chemicals which could ruin my kidneys. I have to wash them out."He sipped the concoction, which looked like apple juice or flat beer.About a week ago, he added a daily half-cup of oatmeal to the usual water regiment to lengthen the fast.Even with the oatmeal, his health could be permanently ruined by the fast. Worries include brain damage, kidney and general organ degradation and heart failure."Most of the people who love me are really mad at me," he said.His wife, Ann, is one of the few still supportive. She's known locally as Saint Ann, largely for sticking with Adams through 40 years of activism."I can adapt well," she said in passing.Adams himself didn't seem all that concerned about his own hunger or the possibility his heart might stop. His is a specific blend of national and personal conviction.Like most Americans, he sees the country as a place of justice and morality, but unlike most Americans who still enjoy the regular cheeseburger, Adams feels like he has a price to pay.Nearly 50 years ago, he was a paratrooper in Vietnam, then Japan and Korea."I went to war because I thought it was right at the time," he said, "but it was wrong. What I did was wrong. I have amends to make."Those amends, he figures, involve stopping wars and closing down Guantanamo.Realistically, his body will give out long before any prisoners are released. He plans to hold to his hunger strike until he feels enough Americans care enough to start a self-sustaining movement."The government is afraid of losing votes," he said. "If everyone in this country wanted the prison shut down, it would be, regardless of any law."As his strike continues, Adams said his progress will eventually be posted on closegitmo.net.
Reach Gazette reporter John Enger at 212-6225 or [email protected]
Copyright (c) 2013 The Daily Gazette Co. All Rights Reserved.
*************************************************************
June 4, 2013
Section: A: Front
Edition: Schenectady/Albany; Final
Page: A1
Column: SHARON SPRINGS
Memo: 'What's going on is against international law. It's against U.S. law. It's against common law and it's against everything we like to believe this country stands for.'
Elliott Adams
Former president, Veterans For Peace







by