California prisoners are planning to go on hunger strike this summer, beginning July 8.  Their history-making strikes in July and September of 2011 brought national attention to the horrors of solitary confinement. UN Special Rapporteur on Torture, Juan Mendez, stated that any time over 15 days in solitary confinement constitutes torture. Yet many people in California state prisons have been encaged in solitary for 10 to 40 years!
What is Solitary Confinement?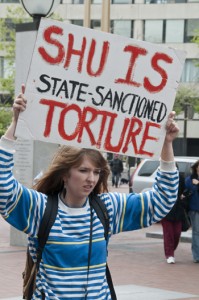 In California, nearly 12,000 imprisoned people spend 23 of 24 hours living in a concrete cell smaller than a large bathroom. The cells have no windows, no access to fresh air or sunlight. People in solitary confinement exercise an hour a day in a cage the size of a dog run. They are not allowed to make any phone calls to their loved ones. They cannot touch family members who often travel days for a 90 minute visit; their conversation and their mail is monitored by prison guards. They are not allowed to talk to other imprisoned people.  They are denied all educational programs, and their reading materials are censored.
How are prisoners put into solitary confinement?
The prosecutor, judge and jury is a prison official called an Institutional Gang Investigator. The I.G.I.'s 'evidence' may be a book the prisoner has read, a tattoo, or some culturally based art the prisoner has created.  But most often, the 'evidence' comes from another prisoner, a secret informant.  With this 'evidence,' the I.G.I can 'sentence' the accused to a lifetime in solitary confinement.
 What Can You Do to Support the Hunger Strikers?
The primary demands of the hunger strikers are the same as they were in 2011, (although additional demands may emerge in particular prisons): (1) An end to long term solitary; (2) An end to the illegal and immoral use of secret informants; (3) An end to punishing whole racial groups for an individual's actions; (4) Improving conditions to meet basic humane standards for physical and mental health; and (5) Providing educational programs.
Prisoner Hunger Strike Solidarity Coalition (PHSS) invites you to support the hunger strikers by signing this Pledge of Resistance:
I will take 1 action a week (an email, a phone call, a letter, a vigil, and/or activating my network) in response to some specific emergency facing the hunger strikers, and in resistance to the torture.  PHSS will send you the information for each activation.







by