WHY I AM ON A HUNGER STRIKE TO SHUT DOWN GUANTANAMO
– Diane Wilson May 1, 2013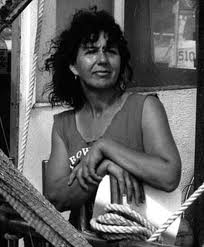 As a fourth generation shrimper and an environmental activist on the Texas gulf coast, I have gone on many hunger fasts to protect the seas my community of fishermen depended upon. I know how far I would go to be heard. To have a voice. To push for justice. So I can vouch for the experts who say that the 100 + hunger strikes in Guantanamo prison reflect the level of desperation and despair felt by the prisoners there. The detainees are screaming for justice from the outside world. And they are being heard.
Here is one despairing voice:
Adanan Latif spent 10 years in Guantanamo without being charged. He was a poet, father and a husband and had been cleared for release four times. Yet he continued to be imprisoned. He was found dead in his cell, one of 9 men who died at Guantanamo. In his own words, Latif asked, "Where is the world to save us from torture? Where is the world to save us from the fire and sadness? Where is the world to save the hunger strikers?"
My question is a lot more down home:
Where are we, citizens of America?
Guantanamo is a US detention and interrogation center. A prison, by all counts. Many have called it a gulag, a shame, a scandal, and they wouldn't be wrong. The vast majority of the 166 men still trapped at Guantánamo have been held for more than 11 years without charge or fair trial. Eighty-six Guantanamo prisoners were cleared for release more than three years ago. The Navy, Army, and Marines have no reason to press charges.
Currently, more than 100 detainees are on a hunger strike, with 21 being force-fed and 5 hospitalized. The forced tube feeding, according to prisoners who have experienced it, is itself an act of torture and very debilitating. A 40 strong medical back-up team has arrived at Guantanamo Bay as the number of inmates taking part in the hunger strike continues to rise, fueling speculation that the condition of the hung-striking prisoners is deteriorating.
If the chains of good ole American indifference continue, hard and unabated, as they have currently been, then the men of Guantanamo Bay might remain there until hell freezes over.
Where are you, Mr. President?
When President Obama took office in 2009, he vowed to shut down the Guantanamo Bay prison within a year. It's 2013 and the prison still stands, prisoners remain– but in solitary confinement to reduce camaraderie and hopefully those hunger strikes! Some consider Guantanamo President Obama's Shame. However, according to President Obama's speech on Tuesday, he wasn't a bit surprised they were having problems. Obama called Guantanamo unsafe and expensive to the US tax payers and said it lessened cooperation with US allies. He said he would really like to shut it down and he was going to work on it!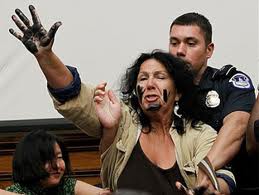 Okay, President Obama, the time to talk and ruminate is over with! Now is the time for action. And what can you do? Well, pardon a backwoods shrimper from the Gulf Coast for saying this, but Congress may have imposed unprecedented restriction on detainee transfers, but you still have the power to transfer men. Right now. You can and should use the certification/waiver process created by Congress to transfer detainees.
According to the ACLU, there are two essential first steps the President must take. One is to appoint a senior point person for the administration's Guantanamo closure policy that is directed by the White House and not by Pentagon bureaucrats. The President can also order the Secretary of Defense to start certifying for transfer detainees who have been cleared, which is more than half the Guantanamo population.
You, President Obama, must demonstrate immediate, tangible progress toward the closure of Guantanamo or the men who are on hunger strikes will die, and you will ultimately be responsible for their deaths.
Where are you, Congress?
Well, Congress, you must not sleep well at night. And contrary to what you believe or what you might believe the American people believe, you can not incarcerate forever a group of people who have not been tried. Sticking them in Cuba will not hide the fact, either. Just as the infamous prison in Northern Ireland where men such as Bobby Sands conducted hunger strikes, died, and stained forever Britain's human rights record, so Guantánamo stains America's.
And where am I? Well, I know where this one American fisherwoman is. I stand in solidarity with the Guantanamo prisoners on their hunger strike and I will fast indefinitely until justice comes. Shut down Guantanamo!  







by