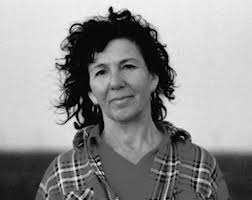 Diane Wilson is an environmental activist, anti-war activist, an author, and a fourth generation shrimper from Texas. She is a co-founder of CODEPINK: Women for Peace. She began her water-only hunger strike in solidarity with the prisoners in Guantánamo from May 1st to May 24, 2013. On May 10, Diane, a grandmother, was arrested at the White House for chaining herself, by her neck, to the fence. She began drinking juice every other day on May 25 until June 5 and travelled to her home in Seadrift, Texas to be with her ailing sister who later past away.  
On June 6, 2013 she continues her open-ended, water-only hunger strike in solidarity with the prisoners and intends to continue her strike until the prisoners in Guantánamo put an end to their hunger strike and those cleared for release begin to be freed.  
She will remain in on the Gulf Coast of Texas until June 20 when she will travel to Washington, DC and continue her vigil in front of the White House.  On Wednesday, June 26, UN International Day in Support of Victims of Torture, she plans to be one of the 86 people who risk arrest in front of the White House in an act of nonviolent civil disobedience to call attention to the 86 prisoners in Guantánamo who have been cleared for release, but have not been freed.
************
Diane Wilson, A Warrior's Tale
8:00 min    Documentary Film
Director: Ilana Trachtman    Producer: Roberta Morri
Diane Wilson, A Warrior's Tale is one of several short subjects that appeared in an hour-long Lifetime Television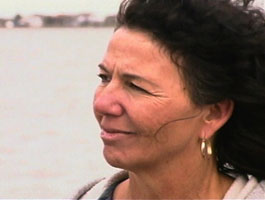 special called "Our Heroes, Ourselves." The program profiles everyday heroes with the goal of inspiring viewers to take action in their own lives. It was shot on location in Sea Drift, Texas in December of 2001 and directed by award winning documentary television producer Ilana Trachtman. Since Diane's triumph in Texas, she has continued to fight for zero discharge from chemical companies across the country.
Portrait by Robert Shetterly, from his portrait series Americans Who Tell the Truth.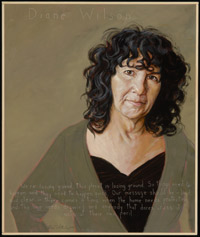 When Diane Wilson, fourth-generation shrimp-boat captain and mother of five, learns that she lives in the most polluted county in the United States, she decides to fight back. She launches a campaign against a multibillion-dollar corporation that has been covering up spills, silencing workers, flouting the EPA, and dumping lethal ethylene dichloride and vinyl chloride into the bays along her beloved Texas Gulf Coast.
In an epic tale of bravery, Wilson takes her fight to the courts, to the gates of the chemical plant, and to the halls of power in Austin. Along the way she meets with scorn, bribery, character assassination, and death threats. Finally Wilson realizes that she must break the law to win justice: She resorts to nonviolent disobedience, direct action, and hunger strikes.
Wilson's vivid South Texas dialogue resides somewhere between Alice Walker and William Faulkner, and her dazzling prose brings to mind the magic realism of Gabriel Garcia Marquez, replete with dreams and prophecies.
An Unreasonable Woman
A True Story of Shrimpers, Politicos, Polluters, and the Fight for Seadrift, Texas
Read and delight in the story how one fierce and feisty fisher-woman wrestled the corporate polluters and won. Diane Wilson's pit-bull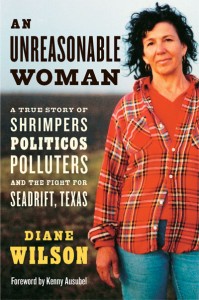 tenacity when it comes to defending Mother Nature is the stuff of legends. Hip to the fact that well-behaved women rarely make history, Diane hasalready inspired a new movement of totally uncontrollable, irresistible and unreasonable women!
— Medea Benjamin, cofounder of CODEPINK and coauthor of Stop the Next War Now







by