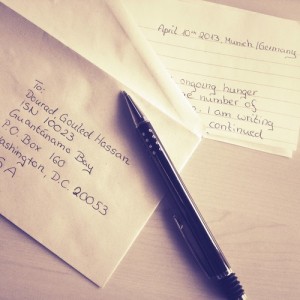 Letter Writing Campaign
Please consider sending a letter to one of the prisoners in Guantanamo.  It is our hope that by flooding the prison with letters of support and solidarity, prison officials will take note that the world has not forgotten the hunger strikers.  A letter written by Witness Against Torture  can be downloaded and printed off here.
When writing to the prisoners please ensure you include their full name and ISN (internment serial number) below (these are the numbers before their names, i.e. Shaker Aamer ISN 239).
 Messages should be kept to simple messages of greeting and goodwill. Do not include political comments.
 Only send non-religious cards, and avoid referring to religion in your message. For example: rather than writing "you are in our prayers",
write "you are in our thoughts."
 Include your name and address (including country) in your message. If you receive a reply, please send a copy to me.
 Write your message in simple English, unless specifically stated otherwise.
 Please send letters and cards individually, not in a package, to speed delivery
Please address all letters to:
Detainee name and ISN number
Camp Delta
US Naval Station Guantánamo Bay, Cuba
Washington DC 20355
USA
Please also include a return address on the envelope.
Amnesty International has provided a list of Guantanamo detainees to whom messages of solidarity may be sent.  The list may be found here: http://www.amnestyusa.org/pdfs/GuantanamoSolidarityAction.pdf
Below is a list of the 166 remaining prisoners.  Thanks to Andy Worthington for keeping track of all them.
1. 004 Wasiq, Abdul-Haq (Afghanistan)
2. 006 Noori, Mullah Norullah (Afghanistan)
3. 007 Fazil, Mullah Mohammed (Afghanistan)
4. 026 Ghazi, Fahed (Yemen)
5. 027 Uthman, Uthman Abdul Rahim Mohammed (Yemen)
6. 028 Al Alawi, Muaz (Yemen)
7. 029 Al Ansi, Mohammed (Yemen)
8. 030 Al Hakimi, Ahmed (Yemen)
9. 031 Al Mujahid, Mahmoud (Yemen)
10. 033 Al Adahi, Mohammed (Yemen)
11. 034 Al Yafi, Abdullah (Yemen)
12. 035 Qader Idris, Idris (Yemen)
13. 036 Idris, Ibrahim (Sudan)
14. 037 Al Rahabi, Abdul Malik (Yemen)
15. 038 Al Yazidi, Ridah (Tunisia)
16. 039 Al Bahlul, Ali Hamza (Yemen)
17. 040 Al Mudafari, Abdel Qadir (Yemen)
18. 041 Ahmad, Majid (Yemen)
19. 042 Shalabi, Abdul Rahman (Saudi Arabia)
20. 043 Moqbel, Samir (Yemen)
21. 044 Ghanim, Mohammed (Yemen)
22. 045 Al Rezehi, Ali Ahmad (Yemen)
23. 063 Al Qahtani, Mohammed (Saudi Arabia)
24. 088 Awad, Adham Ali (Yemen)
25. 091 Al Saleh, Abdul (Yemen)
26. 115 Naser, Abdul Rahman (Yemen)
27. 117 Al Warafi, Muktar (Yemen)
28. 128 Al Bihani, Ghaleb (Yemen)
29. 131 Ben Kend, Salem (Yemen)
30. 152 Al Khalaqi, Asim (Yemen)
31. 153 Suleiman, Fayiz (Yemen)
32. 163 Al Qadasi, Khalid (Yemen)
33. 165 Al Busayss, Said (Yemen)
34. 167 Al Raimi, Ali Yahya (Yemen)
35. 168 Hakimi, Adel (Hakeemy) (Tunisia)
36. 170 Masud, Sharaf (Yemen)
37. 171 Alahdal, Abu Bakr (Yemen)
38. 174 Sliti, Hisham (Tunisia)
39. 178 Baada, Tareq (Yemen)
40. 189 Gherebi, Salem (Libya)
41. 195 Al Shumrani, Mohammed (Saudi Arabia)
42. 197 Chekhouri, Younis (Morocco)
43. 200 Al Qahtani, Said (Saudi Arabia)
44. 202 Bin Atef, Mahmoud (Yemen)
45. 223 Sulayman, Abdul Rahman (Yemen)
46. 224 Muhammad, Abdul Rahman (Yemen)
47. 232 Al Odah, Fawzi (Kuwait)
48. 233 Salih, Abdul (Yemen)
49. 235 Jarabh, Saeed (Yemen)
50. 238 Hadjarab, Nabil (Algeria-France)
51. 239 Aamer, Shaker (UK-Saudi Arabia)
52. 240 Al Shabli, Abdullah (Saudi Arabia)
53. 242 Qasim, Khaled (Yemen)
54. 244 Nassir, Abdul Latif (Morocco)
55. 249 Al Hamiri, Mohammed (Yemen)
56. 251 Bin Salem, Mohammed (Yemen)
57. 254 Khenaina, Mohammed (Yemen)
58. 255 Hatim, Said (Yemen)
59. 257 Abdulayev, Umar (Tajikistan)
60. 259 Hintif, Fadil (Yemen)
61. 275 Abbas, Yusef (Abdusabar) (China)
62. 280 Khalik, Saidullah (Khalid) (China)
63. 282 Abdulghupur, Hajiakbar (China)
64. 288 Saib, Motai (Algeria)
65. 290 Belbacha, Ahmed (Algeria)
66. 309 Abdal Sattar, Muieen (UAE)
67. 310 Ameziane, Djamel (Algeria)
68. 321 Kuman, Ahmed Yaslam Said (Yemen)
69. 324 Al Sabri, Mashur (Yemen)
70. 326 Ajam, Ahmed (Syria)
71. 327 Shaaban, Ali Hussein (Syria)
72. 329 Al Hamawe, Abu Omar (Syria)
73. 434 Al Shamyri, Mustafa (Yemen)
74. 440 Bawazir, Mohammed (Yemen)
75. 441 Al Zahri, Abdul Rahman (Yemen)
76. 461 Al Qyati, Abdul Rahman (Yemen)
77. 498 Haidel, Mohammed (Yemen)
78. 502 Ourgy, Abdul (Tunisia)
79. 506 Al Dhuby, Khalid (Yemen)
80. 508 Al Rabie, Salman (Yemen)
81. 509 Khusruf, Mohammed (Yemen)
82. 511 Al Nahdi, Sulaiman (Yemen)
83. 522 Ismail, Yasin (Yemen)
84. 535 El Sawah, Tariq (Egypt)
85. 549 Al Dayi, Omar (Yemen)
86. 550 Zaid, Walid (Yemen)
87. 552 Al Kandari, Fayiz (Kuwait)
88. 553 Al Baidhani, Abdul Khaliq (Saudi Arabia)
89. 554 Al Assani, Fehmi (Yemen)
90. 560 Mohammed, Haji Wali (Afghanistan)
91. 564 Bin Amer, Jalal (Yemen)
92. 566 Qattaa, Mansoor (Saudi Arabia)
93. 569 Al Shorabi, Zohair (Yemen)
94. 570 Al Qurashi, Sabri (Yemen)
95. 572 Al Zabe, Salah (Saudi Arabia)
96. 574 Al Wady, Hamoud (Yemen)
97. 575 Al Azani, Saad (Yemen)
98. 576 Bin Hamdoun, Zahir (Yemen)
99. 578 Al Suadi, Abdul Aziz (Yemen)
100. 579 Khairkhwa, Khairullah (Afghanistan)
101. 680 Hassan, Emad (Yemen)
102. 682 Al Sharbi, Ghassan (Saudi Arabia)
103. 684 Tahamuttan, Mohammed (Palestine)
104. 685 Ali, Abdelrazak (Algeria)
105. 686 Hakim, Abdel (Yemen)
106. 688 Ahmed, Fahmi (Yemen)
107. 689 Salam, Mohamed (Yemen)
108. 690 Qader, Ahmed Abdul (Yemen)
109. 691 Al Zarnuki, Mohammed (Yemen)
110. 694 Barhoumi, Sufyian (Algeria)
111. 695 Abu Bakr, Omar (Omar Mohammed Khalifh) (Libya)
112. 696 Al Qahtani, Jabran (Saudi Arabia)
113. 702 Mingazov, Ravil (Russia)
114. 707 Muhammed, Noor Uthman (Sudan)
115. 708 Al Bakush, Ismael (Libya)
116. 713 Al Zahrani, Mohammed (Saudi Arabia)
117. 722 Diyab, Jihad (Syria)
118. 728 Nassir, Jamil (Yemen)
119. 753 Zahir, Abdul (Afghanistan)
120. 757 Abdul Aziz, Ahmed Ould (Mauritania)
121. 760 Slahi, Mohamedou Ould (Salahi) (Mauritania)
122. 762 Obaidullah (Afghanistan)
123. 768 Al Darbi, Ahmed Mohammed (Saudi Arabia)
124. 832 Omari, Mohammed Nabi (Afghanistan)
125. 836 Saleh, Ayoub Murshid Ali (Yemen)
126. 837 Al Marwalah, Bashir (Yemen)
127. 838 Balzuhair, Shawki Awad (Yemen)
128. 839 Al Mudwani, Musab (Musa'ab Al Madhwani) (Yemen)
129. 840 Al Maythali, Hail Aziz Ahmed (Yemen)
130. 841 Nashir, Said Salih Said (Yemen)
131. 893 Al Bihani, Tawfiq (Saudi Arabia)
132. 894 Abdul Rahman, Mohammed (Tunisia)
133. 899 Khan, Shawali (Afghanistan)
134. 928 Gul, Khi Ali (Afghanistan)
135. 934 Ghani, Abdul (Afghanistan)
136. 975 Karim, Bostan (Afghanistan)
137. 1015 Almerfedi, Hussein (Yemen)
138. 1017 Al Rammah, Omar (Zakaria al-Baidany) (Yemen)
139. 1045 Kamin, Mohammed (Afghanistan)
140. 1094 Paracha, Saifullah (Pakistan)
141. 1103 Zahir, Mohammed (Afghanistan)
142. 1119 Hamidullah, Haji (Afghanistan)
143. 1453 Al Kazimi, Sanad (Yemen)
144. 1456 Bin Attash, Hassan (Saudi Arabia)
145. 1457 Sharqawi, Abdu Ali (Yemen)
146. 1460 Rabbani, Abdul Rahim Ghulam (Pakistan)
147. 1461 Rabbani, Mohammed Ghulam (Pakistan)
148. 1463 Al Hela, Abdulsalam (Yemen)
149. 10001 Bensayah, Belkacem (Bosnia-Algeria)
150. 10011 Al Hawsawi, Mustafa (Saudi Arabia)
151. 10013 Bin Al Shibh, Ramzi (Yemen)
152. 10014 Bin Attash, Waleed (Saudi Arabia)
153. 10015 Al Nashiri, Abd Al Rahim (Saudi Arabia)
154. 10016 Zubaydah, Abu (Palestine-Saudi Arabia)
155. 10017 Al Libi, Abu Faraj (Libya)
156. 10018 Al Baluchi, Ammar (Ali Abd Al Aziz Ali) (Pakistan-Kuwait)
157. 10019 Isamuddin, Riduan (Hamlili) (Indonesia)
158. 10020 Khan, Majid (Pakistan)
159. 10021 Bin Amin, Modh Farik (Zubair) (Malaysia)
160. 10022 Bin Lep, Mohammed (Lillie) (Malaysia)
161. 10023 Dourad, Gouled Hassan (Somalia)
162. 10024 Mohammed, Khalid Sheikh (Pakistan-Kuwait)
163. 10025 Malik, Mohammed Abdul (Kenya)
164. 10026 Al Iraqi, Abd Al Hadi (Iraq)
165. 3148 Al Afghani, Haroon (Afghanistan)
166. 10029 Rahim, Muhammad (Afghanistan)







by