TO PARTICIPATE IN THE ROLLING FAST, WE ARE ASKING YOU TO DO THREE THINGS ON THE DAY YOU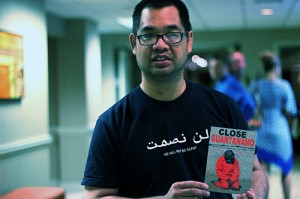 SIGN UP:
Fast from midnight to midnight
Write to one prisoner at Guantánamo
Download and send this letter to a man detained in Guantánamo. (Arabic version also available.)
Make four phone calls
Call the White House and insist that President Obama fulfill his promise to close Guantanamo: 202-456-1111, 202-456-1414 or submit a comment online.
Call the U.S. Southern Command to decry the conditions at Guantanamo: 305.437.1213
Call the Department of Defense: 703-571-3343
Call your Congressperson: http://www.contactingthecongress.org/
Talking points: "I am concerned about the expanding hunger strike and I appreciate General Kelly's (Southcom Commander) recent acknowledgement before Congress of the "devastating" situation at Guantanamo.  We are concerned over the costs associated, both financially and what it does to America's image, and concerned about the repercussions for our troops and what it means to ask young kids to force feed people we admit are innocent.  I ask that, in the face of the failure of our elected officials to close Guantanamo, our Military will refuse to participate in force feedings."
Additionally, if you have the time and the inclination, we encourage you to take a photo of yourself holding a sign indicating what day of the hunger strike you are fasting on (or just a photo of the sign) AND/OR to write just a couple of sentences reflecting on the day's experience.  Send the photo or brief reflection to [email protected], or post it directly on to our facebook page, Witness against Torture.  WAT would like to be able to use the photo and/or reflection on this site and Tumblr.
Lastly, if you do some public recognition of the fast, please let us know.
If you would like to participate in the rolling fast, please look at the calendar below and send an email to [email protected] indicating which day/s you can fast, make phone calls, and write a letter to a prisoner at Guantánamo.  Once you sign up, you will receive a confirmation email and a then a reminder email the day before you fast.
For photos and past reflections from participants please visit:
http://closegitmo.net/rollingfasters/







by