---
Protest at Hart Senate Building In Support of Hunger Strikers
By Staff, www.PopularResistance.org
July 30th, 2013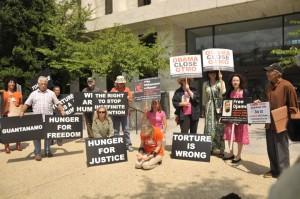 Today, activists called on Congress and the White House to take action before they take their summer vacation.  The protested in support of hunger strikers at Guantanamo Bay and the Pelican Bay Prison in California as well as in support of people held in solitary confinement all over the world.  Several of the participants in the protest are in the midst of long term solidarity hunger strikes. Six people were arrested: Tarak Kauff, Margaret Flowers, Jay Wenk, Will Thomas, Cynthia Papermaster and Crystal Zevon.
http://www.popularresistance.org/photo-essay-protest-at-hart-senate-building-in-support-of-hunger-strikers/
---
Guantanamo Officials Dole Out Solitary Confinement, Beatings to Break Hunger Strike
Yemeni detainee: "I have not done anything for this."
- Andrea Germanos, staff writer
A first-hand account from a prisoner at Guantánamo reveals the abusive tactics prison authorities are using to break the prisoners' hunger strike.
A colonel in charge said that "Any person who continues on the hunger strike will be moved to a solitary confinement and will be removed from communal areas," Yemeni detainee Samir Moqbel told his lawyer, Cori Crider, who works with the UK-based charity Reprieve.
http://www.commondreams.org/headline/2013/07/31-10
---
July 26, 2013
2 Guantanamo detainees to be repatriated to Algeria – White House
Washington said it intends to send two Guantanamo Bay detainees back home to Algeria. The Obama administration made the decision "in consultation with the Congress," according to a White House spokesperson.
http://rt.com/usa/guantanamo-repatriate-inmate-algeria-651/
---
 Why, Mr President, Is Guantanamo Bay Still Open?
Cori Crider Legal Director, Reprieve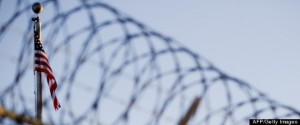 "A symbol around the world for an America that flouts the rule of law." These arePresident Obama's recent words on Guantanamo Bay, the military prison he rules as commander-in-chief. But as Gitmo's infamous hunger strike enters its sixth month, it is increasingly plain that we have not one, but two administrations on Guantánamo Bay.
The first – the administration of President Obama's speeches – regrets the prison, promises a new push to close it, and finds force-feeding repulsive, if necessary. It says: "Look at the current situation, where we are force-feeding detainees who are on hunger strike…. Is that who we are? Is that something that our founders foresaw? Is that the America we want to leave to our children?"
http://www.huffingtonpost.co.uk/cori-crider/guantanamo-bay_b_3644827.html
---
July 25, 2013
White House skips Senate's first Gitmo hearing in 5 years
Lawmakers Blast Guantanamo's $2.7 Million Per Prisoner Cost
WASHINGTON (Reuters) – Democratic lawmakers pushing to close the detention center at Guantanamo Bay said on Wednesday its cost has skyrocketed to $2.7 million per inmate this year and argued it is too expensive to keep open while the country is fighting budget deficits.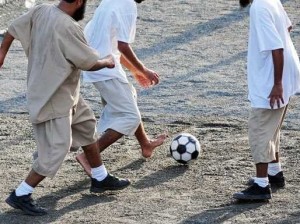 "This is a massive waste of money," Senator Dianne Feinstein said during a Senate Judiciary subcommittee hearing on the base.
Guantanamo has been dubbed the most expensive prison on Earth, and President Barack Obama in May cited its cost – then calculated at about $900,000 per prisoner – as one of many reasons to close it.
Representative Adam Smith, the top Democrat on the House of Representatives Armed Services Committee, testified during the hearing that the current cost of operating the facility has jumped to $454 million in the fiscal year ended September 30, according to the U.S. Department of Defense, or about $2.7 million for each of the 166 inmates.
Smith said overall, $4.7 billion has been spent running Guantanamo since the facility opened in 2002.
By comparison, super-maximum security prisons in the United States spend about $60,000 to $70,000 at most to house their inmates, analysts say.
Advocates for closure also argue that holding prisoners for years without charge or trial is a stain on the United States. They say Guantanamo is a threat to national security because it is a powerful recruiting tool for militants.
Read more: http://www.businessinsider.com/lawmakers-blast-guantanamo-prisoner-cost-2013-7#ixzz2a1OFabkB
---
 July 23, 3013
Retired Military Leaders Urge Senate Committee to Close Guantanamo
Washington, DC – On the eve of a Senate Judiciary Committee Subcommittee on the Constitution, Civil Rights and Human Rights hearing about the U.S. detention facility at Guantanamo Bay, Cuba, 26 of the nation's most respected retired military leaders are urging members of the committee to support steps to shutter the facility.
In a letter to subcommittee Chairman Senator Richard Durbin (D-IL) and Ranking Member Senator Ted Cruz (R-TX), the retired admirals and generals wrote: "Terrorists aim to sow fear, and thereby to cause us to change who we are.  We should demonstrate our moral courage by standing true to our values and laws.  Closing Guantanamo is a necessary step forward in reaffirming our commitments to ourselves and to the world.  We welcome this Committee's hearing on Guantanamo and urge the Committee to explore how to remove any remaining impediments to closing the Guantanamo chapter in our history."
Read more: http://www.humanrightsfirst.org/
Watch live stream from: Witness Against Torture
---
Yasiin Bey (aka Mos Def) force-fed under standard Guantánamo Bay procedure – video
 
Fast Tube by Casper
As Ramadan begins, more than 100 hunger-strikers in Guantánamo Bay continue their protest. More than 40 of them are being force-fed. A leaked document sets out the military instructions, or standard operating procedure, for force-feeding detainees. In this four-minute film made by Human Rights organisation Reprieve and Bafta award-winning director Asif Kapadia, US actor and rapper Yasiin Bey (formerly known as Mos Def), experiences the procedure
Watch video published July 9, 2013: http://www.guardian.co.uk/world/video/2013/jul/08/mos-def-force-fed-guantanemo-bay-video
---
July 20, 2013
 Attorneys representing Guantanamo prisoners were notified by a government official late Friday night that the men who the Obama administration has determined can neither be prosecuted nor released will finally have their cases reviewed to determine whether they should still be indefinitely detained.
Pelican Bay Emergency Alert! Take action to help prisoners!
The California Department of Corrections and 'Rehabilitation' (CDCr) began to retaliate against the vocal spokespeople for the hunger strikers, in Pelican Bay and Corcoran State Prisons.  Our Pledge of Resistance Alert today will focus on the extreme brutality of prison authorities against the Representatives of the hunger strikers in Pelican Bay State Prison in Crescent City, California.
The CDCr is also trying to undermine legal and community support of the hunger strikers. They have just issued 'banning' orders to Marilyn McMahon, an attorney for many of the Reps in Pelican Bay, denying her access to her clients.
Please be determined and polite in trying to send your phone and email messages. Whether you get a voice or a voice mail, they will know you are watching them, and want them to Stop the Torture.
Clic here for specific action suggestions
---
Compliance Or Exploitation? Guantanamo Bay Force-Feeds Muslim Inmates
www.policymic.com  Rashaad Mubarak July 19, 2013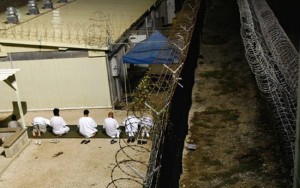 Ramadan is obligatory for all Muslims; only those who are diabetic, ill, and pregnant are exempt from this. Even the inmates of Guantanamo Bay, who are Muslim, participate in Ramadan and abstain from food, water, and intercourse. The guards of Guantanamo Bay respect this religious belief and allow Muslim inmates to participate in Ramadan. But cruelty manifests as the Guantanamo Bay guards force-feed hunger-striking Muslim inmates before sunrise and after sunset, complying with the guidelines of Ramadan.
"We understand that observing the daytime fast and taking nothing by mouth or vein is an essential component of Muslim observance of Ramadan," said a prison spokesman. "And for those detainees on hunger strike, we will ensure that our preservation of life through enteral feeding does not violate the tenets of their faith." Thus, Guantanamo Bay officials may respect religious beliefs, but they are simultaneously showing a complete disregard for ethics, privacy, and human rights as inmates continue to be subjected to inhumane methods of ingestion.
Guantanamo Bay guards feed the Muslim inmates by inserting nasogastric tubes through the nose, down the throat and into the stomach. The schedule consists of two nightly force-feedings in which the guards feed Muslim inmates between 7:44 p.m. and 6:28 a.m. The guards also immobilize the Muslim inmates by shackling their arms and hands and securing them with belts, decreasing resistance from the inmates. Stephen Chapman, a columnist from the Odessa American, records a testimony from an inmate who has endured the force-feedings. "The process of being force-fed hurts a great deal. Sometimes they botch putting the tube in, and tears stream down my cheek," said the inmate. "They shackle our feet with metal chains and shackle our arms and hands. Then they put us in a force-feeding chair and tie us with belts." From this testimony, it is clear that Guantanamo Bay officials and guards inflict excruciating agony and torture on Muslim inmates, unconcerned by the tears and screams.
Hip-hop artist Yasiin Bey, formerly known as Mos Def, released a video of his encounter with the force-feedings at Guantanamo Bay on July 8. This video reveals the pain that Muslim inmates and others on hunger strike at Guantanamo endure as Bey voluntarily undergoes a force-feeding procedure. Bey enlightens Americans, and probably the world, in this video as he is quickly brought to tears and screams, begging the officers to stop the procedure.
http://www.policymic.com/articles/54953/compliance-or-exploitation-guantanamo-bay-force-feeds-muslim-inmates
---
July 18, 2013
Press Release from California Prisoner Hunger Strike Solidarity Coalition
Leaders of California Hunger Strike Against Solitary Punished With More Severe Solitary
- Sarah Lazare, staff writer
In a California prisoner hunger strike against solitary confinement, strike leaders are being retaliated against with further isolation.
At least 14 Pelican Bay State Prison inmates who are active in the hunger strike and signed a statement calling for prisoner unity—the Agreement to End Hostilities Among Racial Groups—were forcibly removed from their cells last Thursday and tossed into severe isolation units, the California-based Prisoner Hunger Strike Solidarity coalition reports.
"[On] July 11, 2013, we were placed in Administrative Segregation (Ad-Seg), where we are subjected to more torturous conditions than in the [solitary housing units]," declared the targeted prisoners in a statement released Wednesday morning. "Despite this diabolical act on the part of the [California Department of Corrections and Rehabilitation] intended to break our resolve and hasten our deaths, we remain strong and united!"
http://www.commondreams.org/headline/2013/07/18-0
---
Attempting to Break Hunger Strike, CDCR Increases Retaliation, Shuts Out Attorney Advocate
The order bans McMahon from the prison pending a CDCR investigation to determine whether one of her legal assistants  "presents a serious threat to security." The order says nothing about what the assistant stands accused of. McMahon comments, "I'm struck by how similar this is to the gang validation process, one of the hunger strike issues. Prisoners are sent to solitary indefinitely based on reports that they are not allowed to see, made by prisoners whose identity they are not allowed to know."
 McMahon and fellow attorney Carol Strickman were banned during the hunger strike in 2011 under the same administrative regulations. "All charges against us were eventually lifted," said McMahon, "but to this day CDCR has never told me the charges against me."  The order prevented the two attorneys from having legal visits with their clients for the remainder of that strike.
Late last week, the CDCR moved 14 supposed hunger strike leaders from the SHU in Pelican Bay to the even more restrictive Administrative Segregation, confiscating their legal papers related to a lawsuit filed against the Department for its policies of indefinite long-term solitary confinement. In further efforts to break the strike, the Department is forcing cold air into the cells of striking prisoners.  Supporters and advocates are denouncing the CDCR's tactics as cruel and inhumane.
 "The CDCR wants to cut off communications between prisoners and the outside world, but we are not going to let that happen," said McMahon. The prisoners are resolute about continuing their hunger strike until a legally binding agreement is reached.
http://prisonerhungerstrikesolidarity.wordpress.com/2013/07/18/attempting-to-break-hunger-strike-cdcr-increases-retaliation-shuts-out-attorney-advocate/
---
Guantanamo genital searches to continue
Jason Leopold Last Modified: 18 Jul 2013 13:17
A federal appeals court on Wednesday suspended a lower court's decision last week barring Guantanamo guards from conducting the "religiously and culturally abhorrent" procedure of searching prisoners' genitals when they leave their cells to meet with attorneys and return to the prison camp.The move comes just as a congressional committee is gearing up to hold its first significant hearing since 2009 to shutter the detention facility where 166 men have been detained since 2002 and as a mass hunger strike, now in its fifth month, appears to be winding down as some of the prisoners have been returned to communal living. Over the past week, 28 prisoners quit the hunger strike, according to the military, however, 46 are still being force-fed.http://www.aljazeera.com/humanrights/2013/07/201371893153946602.html
---
July 17, 2013
By WILBERT RIDEAU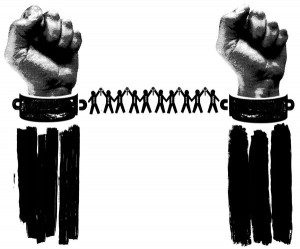 THERE aren't many protests in prison. In a world where authorities exercise absolute power and demand abject obedience, prisoners are almost always going to be on the losing side, and they know it.
America's Most Reasonable 'Unreasonable Woman' Drags Gitmo to Obama: Diane Wilson Exclusive
---
Guantanamo Frowned on John Grisham Books
By Jess Bravin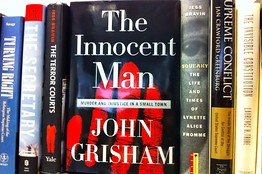 The military prison at Guantanamo Bay makes sure that the suspected terrorists it houses don't receive dangerous materials—things like weapons, narcotics and, of course, books by John Grisham.
Capt. Justin Swick, a military defense attorney, thought that the lawyer-novelist's works could help his client, Sufiyan Barhoumi, learn American legal principles. But guards seized the books when the lawyer tried to bring two paperbacks, along with their audio editions, during a recent client visit. Capt. Swick says Guantanamo authorities explained the two paperbacks had been "rejected for content."
http://online.wsj.com/article_email/SB10001424127887323300004578557320627356256-lMyQjAxMTAzMDEwNTExNDUyWj.html
---
Sun man investigates U.S. detention camp the world forgot
From OLIVER HARVEY, Chief Feature Writer, in Guantanamo Bay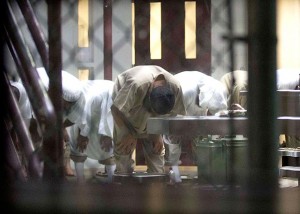 Earlier I had been shown a hellish contraption in which some hunger-weakened men are strapped then force-fed through a nose tube.
We're in Camp Five at the infamous detention camp for terrorists held in America's War on Terror.
A recent poll showed 70 per cent of Americans want to keep the camp open, to detain terror suspects. But others know it as Gulag Gitmo — US slang — and say its sickening abuses of human rights shame the Land of the Free.
Obama's pledge to close the camp failed It's a razor-wired purgatory where dozens have been caged for years without charge.
Some, including the last British captive Shaker Aamer, have been left to rot despite being cleared for release years ago.
More: http://www.thesun.co.uk/sol/homepage/features/5015731/guantanamo-bay-visit.html#ixzz2ZE3eJu4r
---
July 15, 2013
By Walter Pincus, Published: July 15
A quote worth recalling when it comes to the U. S. detention facility at Guantanamo Bay Cuba is Nixon Attorney General John Mitchell's: "Watch what we do, not what we say."
Obama quoted the judge who sentenced shoe bomber Richard Reid, saying the way the United States treats detainees "is the measure of our own liberties."
The latest example starts with President Obama's May 23 speech at National Defense University when he discussed his efforts to close the facility, which he called "a symbol around the world for an America that flouts the rule of law."
What the president did not discuss, and may not have known, was that on May 22, lawyers for several detainees had filed an emergency motion in Washington arguing that rather than face newly instituted, religiously repugnant groin searches, their clients — many on a hunger strike — were canceling attorney meetings and phone calls to family members. Last week, Federal District Chief Judge Royce C. Lamberth noted Obama's use of "our own liberties" in his July 11 opinion, in which, among other things, he barred U.S. guards from continuing the searches.
More: http://www.washingtonpost.com/world/national-security/guantanamos-challenge/2013/07/15/f6bb64d2-e812-11e2-a301-ea5a8116d211_story.html
Guantánamo Bay Hunger Strike May Be Winding Down
By Margaret Hartmann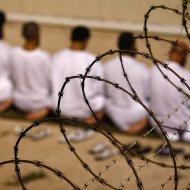 http://nymag.com/daily/intelligencer/2013/07/guantnamo-bay-hunger-strike-may-be-winding-down.html
---
July 14, 2013
Using hunger as weapon of protest
By Dennis Yusko
Published 9:57 pm, Friday, July 12, 2013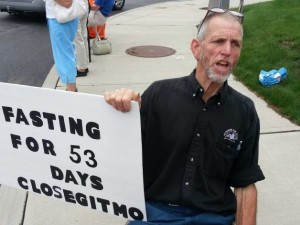 A gaunt Elliott Adams sat on a metal folding chair at the corner of Wolf Road and Central Avenue as protesters in orange jumpsuits and black hoods demanded the U.S. close its jail at Guantanamo Bay.
Adams, 66, has been fasting for six weeks in solidarity with prisoners at the U.S. naval base in Cuba, where about 106 of 166 wartime detainees refuse to eat and 45 are being force-fed by U.S. military personnel, according to media reports from this week.
http://www.timesunion.com/local/article/Using-hunger-as-weapon-of-protest-4663022.php
---
 A Hunger Strike Against Solitary Confinement: Shane Bauer on Inhuman Prisons from California to Iran
Democracy Now! Headlines 
More than 12,000 prisoners in California have entered their fifth day of a hunger strike in a push to end long-term solitary confinement, which they call a form of "indefinite state-sanctioned torture." Other demands include ending harsh group punishment, redefining gang activity, improving food quality, and increasing access to healthcare and education services. In addition to refusing meals, more than a thousand prisoners are also missing classes and prison work programs. This is the third large-scale hunger strike in the past two years. The current fast began at Pelican Bay State Prison and has now spread to two-thirds of the state's 33 prisons.
http://www.democracynow.org/2013/7/12/a_hunger_strike_against_solitary_confinement?autostart=true
---
July 7, 2013
A detainee at the US prison explains that hunger striking is the only way left to cry out for life, freedom and dignity.
A month ago, the guards here at Guantanamo Bay gave me an orange jumpsuit. After years in white and brown, the colours of compliant prisoners, I am very proud to wear my new clothes. The colour orange is Guantanamo's banner. Anyone who knows the truth about this place knows that orange is its only true colour. My name is Moath al-Alwi. I have been a prisoner of the United States at Guantanamo since 2002. I was never charged with any crime and I have not received a fair trial in US courts. To protest this injustice, I began a hunger strike in February. Now, twice a day, the US military straps me down to a chair and pushes a thick tube down my nose to force-feed me.
http://www.aljazeera.com/indepth/opinion/2013/07/201373145723725101.html
---
July 6, 2013
By Mark Townsend The Observer, Saturday 6 July 2013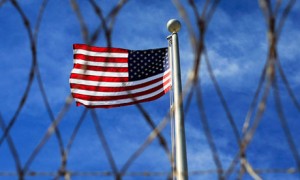 Detainees inside the US camp at Guantánamo Bay are being exposed to increasingly brutal sleep deprivation techniques with doors outside inmates' cells allegedly being slammed by guards up to 300 times a night. According to Shaker Aamer, the last British resident inside the camp, one guard had told him that he was following orders by making as much noise as possible while detainees – many on hunger strike – tried to sleep. Aamer, 46, in a letter written on Thursday, said: "He admitted to me: 'It's my orders to keep going up and down all night tonight'. They crashed the doors maybe 250 to 300 times in the night, keeping us awake, and continued until around 9am – then quiet." http://www.guardian.co.uk/world/2013/jul/07/guantanamo-guards-inmates-stay-awake?CMP=twt_gu
---
July 4, 2013
Inside Story Americas Last Modified: 04 Jul 2013 11:43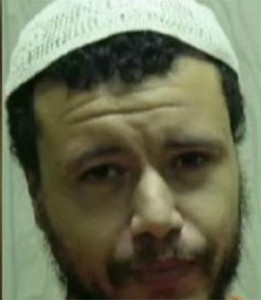 In the letter obtained by Al Jazeera, Chekkouri describes being sexually assaulted by guards as they search him each time he leaves and returns to his cell in order to talk to his lawyer or his wife. And he says he is not the only one enduring this kind of treatment. In response to the allegations, the Pentagon described Guantanamo guards as "some of the most professional, most heavily scrutinized guards on the planet" adding that "absurd accusations simply do not withstand intellectual rigor".
Read the article here: http://www.aljazeera.com
---
How You [and President Obama] Can Close Guantanano Prison
The last British detainee in Guantanamo is to sue President Barack Obama for the US Government forcing him and fellow inmates to take food and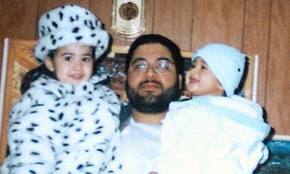 medicines.
Shaker Aamer, along with fellow detainees Nabil Hadjarab, Ahmed Belbacha and Abu Wa'el Dhiab, have filed a motion in US federal court in Washington DC, to stop them being force-fed and force-medicated.
The motion was filed by British legal charity, Reprieve, which is representing the men along with co-counsel Jon B Eisenberg.
http://www.huffingtonpost.co.uk/2013/07/01/guantanamo-shaker-aamer_n_3527294.html
---
Guantanamo Bay Prisoners Ask To Halt Force Feeding Practices
---
June 29, 2013
---
June 22, 2013
DailyCaller.com - 4:18 PM 06/21/2013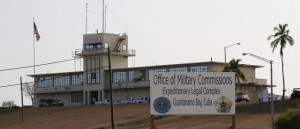 The practice of force-feeding prisoners on a hunger strike at Guantanamo Bay has not raised medical concerns from prison doctors, The Associated Press reports.
To prevent the strikers from starving to death, military medical personnel have been using nasal feeding tubes to nourish immobilized prisoners, which Navy Captain Robert Durand, a spokesman for the prison, has referred to as a "lawful order."
One-hundred four of 166 prisoners are participating in the hunger strike, which has been going on for nearly four months.
The American Medical Association wrote to Secretary of Defense Chuck Hagel decrying the practice of force-feeding.
Democratic California Sen. Dianne Feinstein agrees with the AMA and wrote to Hagel upon returning from a recent visit to the prison.
"The current approach raises very important ethical questions," she wrote, according to the AP.
Navy lieutenant commander Walter Ruiz, a lawyer representing a prisoner who has occasionally denied to eat and has been force-fed, asked the judge, Army colonel James Pohl, to ban the practice in a pretrial hearing this week.
"The reality is that it's not the preservation of a life. It's the preservation of existence," Ruiz said. "There is no life. In essence, by keeping these people here we have already killed their soul, and their spirit and taken away their dignity."
---
---
June 20, 2013
Gary McLendon Staff writer, DemocratANDChronicle.com
A small contingent of protesters rallied at 12 Corners in Brighton against the indefinite detention of prisoners at Guantanamo Bay in Cuba.
The silent protest – which involved about 20 people, some in orange jumpsuits and covered faces – was designed to call attention to the holding of people in custody although they have been legally cleared of committing any crime.
Read the story: http://www.democratandchronicle.com/
---
Democracy Now! 
Democratic Senator Dianne Feinstein is calling for an end to the force-feeding of hunger striking prisoners at Guantanamo Bay. Lawyers say at least 130 of the 166 remaining prisoners at Guantánamo are refusing to eat in protest of their indefinite imprisonment. Forty-three prisoners are now being force-fed through tubes four months after the strike began. In a letter to the Pentagon, Feinstein, the chair of the Senate intelligence committee, said: "Hunger strikes are a long-known form of non-violent protest aimed at bringing attention to a cause, rather than an attempt of suicide…The current approach raises very important ethical questions and complicates the difficult situation regarding the continued indefinite detention at Guantanamo." Feinstein is one of the most senior U.S. lawmakers to oppose force-feeding at Guantanamo. During his speech Wednesday in Berlin, President Obama highlighted his pledge to seek Guantanamo's closure.
President Obama: "Even as we remain vigilant about the threat of terrorism, we must move beyond the mindset of perpetual war and in America, that means redoubling our efforts to close the prison at Guantanamo."
---
June 19th 
June 19, 2013 (Reuters)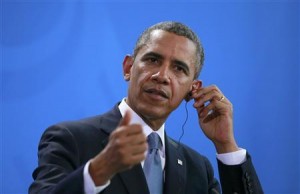 U.S. President Barack Obama said on Wednesday the United States would step up its attempts to close Guantanamo Bay prison.
"Even as we remain vigilant about the threat of terrorism, we must move beyond the mindset of perpetual war and in America that means redoubling our efforts to close the prison at Guantanamo," Obama said in a speech in front of Berlin's Brandenburg Gate.
"It means tightly controlling our use of new technology like drones, it means balancing the pursuit of security with the protection of privacy," he added.
http://www.reuters.com/article/2013/06/19/us-germany-obama-guantanamo-idUSBRE95I0LY20130619
By Jane Sutton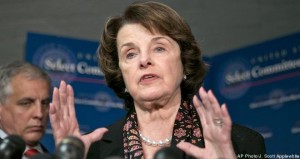 June 19, 2013 - GUANTANAMO BAY U.S. NAVAL BASE, Cuba (Reuters) – U.S. Senator Dianne Feinstein urged the Pentagon on Wednesday to stop force-feeding hunger-striking prisoners at the Guantanamo Bay detention camp and called the practice "out of step" with medical ethics and international norms.
Feinstein, a California Democrat who chairs the Senate intelligence committee, sent a letter to Defense Secretary Chuck Hagel, saying the Guantanamo force-feeding policy was also out of synch with policies in the civilian federal prisons.
"Hunger strikes are a long-known form of non-violent protest aimed at bringing attention to a cause, rather than an attempt of suicide," she wrote.
"I believe that the current approach raises very important ethical questions and complicates the difficult situation regarding the continued indefinite detention at Guantanamo."
http://news.yahoo.com/stop-force-feeding-guantanamo-prisoners-senator-230732707.html
Is force-feeding a form of torture?
In These Times June 19, 2013 BY TERRY J. ALLEN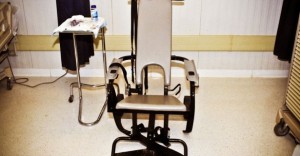 Gitmo's 'padded cell on wheels,' for force-feeding
Press Release from Veterans for Peace -June 18

Veterans Join Hunger Strike to Close US Prison at Guantánamo
Large Protest Action Outside White House on Wednesday, June 26
---
Al Jazeera, June 18, 2013


US President Barack Obama has appointed a Washington lawyer to oversee the closure of the Guantánamo Bay detention facility, but is he likely to succeed where others have failed?
The continuing hunger strike by over 100 prisoners at Guantánamo Bay has only served to draw attention to one of the most glaring unkept promises of Obama's presidency.
Last month, however, the president pledged to lift his self-imposed ban on transferring Guantánamo detainees to Yemen. He also promised to name envoys at both the state department and the Pentagon to expedite the prison's closure.
http://www.aljazeera.com/programmes/insidestoryamericas/2013/06/20136186562551131.html
---
HUFF POST Politics
By FREDERIC J. FROMMER 06/18/13
WASHINGTON — A federal appeals court judge Tuesday called on the president and Congress to consider a different approach to the handling of legal cases of Guantánamo Bay prisoners.
Judge Harry T. Edwards made the comment at the end of a written opinion in which he reluctantly concurred with a three-judge panel's decision rejecting a Guantánamo prisoner's challenge to his detention.
Edwards wrote that the prisoner's challenge fails because of the precedent established by the U.S. Court of Appeals for the District of Columbia Circuit.
"However, when I review a record like the one presented in this case, I am disquieted by our jurisprudence," wrote Edwards, who was appointed by President Jimmy Carter, adding that the judges on the circuit have "strained" to make sense of the law and follow Supreme Court commands.
"The time has come for the president and Congress to give serious consideration to a different approach for the handling of the Guantánamo detainee cases," he wrote.
http://www.huffingtonpost.com/2013/06/18/Guantánamo-detainee-cases_n_3460468.html
---
A Medical Ethics-free Zone? Guantánamo Doctors Urged to Stop Force Feeding Hunger Striking Prisoners


---
Democracy Now! June 18, 2013
As the prison-wide hunger strike at Guantánamo enters its 133rd day, a group of top U.S. doctors and public health specialists are calling on their colleagues in the military to boycott the mass force-feeding of prisoners. In an article for the New England Journal of Medicine, three professors from Boston University write: "Physicians at Guantánamo cannot permit the military to use them and their medical skills for political purposes and still comply with their ethical obligations. Force-feeding a competent person is not the practice of medicine; it is aggravated assault." We speak to George Annas, one of the co-authors of the article. He is a professor of health law, bioethics and human rights at the Boston University School of Public Health.
http://www.democracynow.org/2013/6/18/a_medical_ethics_free_zone_guantnamo
---
Democracy Now! June 18, 2013
---
June 17th 

Posted on Monday, 06.17.13  – These are the names and nationalities of the 48 Guantánamo captives, whom an Obama administration Task Force in 2010 classified as indefinite detainees ineligible for release, transfer or prosecution. Their formal classification is "continued detention pursuant to the Authorization for Use of Military Force (2001), as informed by principles of the laws of war." The captives' names are different on different documents.
This lists reflects the names on a release to The Miami Herald under the Freedom of Information Act, and includes each captive's internment serial number, ISN, as a guide. Two of the detainees on the list have since died at Guantánamo, one of a suicide and another of a heart attack. Each of these men is identified with an asterisk and the notation deceased.
---
June 17, 2013 By Jane Sutton
Guantánamo BAY U.S. NAVAL BASE, Cuba (Reuters) June 17, 2013 – Lawyers for five prisoners accused of plotting the September 11, 2001, attacks on the United States have asked to see confidential reports by the International Committee of the Red Cross about visits to the defendants at the Guantánamo Bay detention camp.
They want to see the reports about conditions at the camp's maximum-security unit to ensure they do not interfere with the defendants' ability to help prepare a defense.
The issue is one of dozens on the docket for a week-long pretrial hearing that began on Monday in the death penalty case against the alleged mastermind of the hijacked plane attacks on the United States, Khalid Sheikh Mohammed, and four co-defendants accused of funding and training the hijackers.


http://news.yahoo.com/state-department-name-lawyer-cliff-sloan-close-guantanamo-010654085.html


---
Democracy Now!
June 17, 2013
The Obama administration is expected to announce today the appointment of a new envoy to head the effort to close Guantánamo Bay. Clifford Sloan, a Washington lawyer, has been tapped to head the State Department's Office of Guantánamo Closure. The office has been idle since January after the administration effectively abandoned the closure effort. More than 100 Guantánamo Bay prisoners remain on a hunger strike to protest their indefinite imprisonment.
http://www.democracynow.org/2013/6/17/headlines#61714
---
Democracy Now! June 27, 2013
A number of activists with the group CodePink were arrested at the White House on Wednesday in a protest for the closure of the U.S. military base at Guantánamo Bay. The group's co-founder Diane Wilson, was arrested after scaling the White House fence and attempting to deliver a letter to the White House front door. Wilson is on a liquid-only fast in solidarity with hunger striking Guantánamo prisoners.
http://www.democracynow.org/2013/6/27/headlines#62712
---
Read the story: http://us4.campaign-archive2.com/?u=c0748d3f311618789d2b32209&id=97d39c1418
************







by