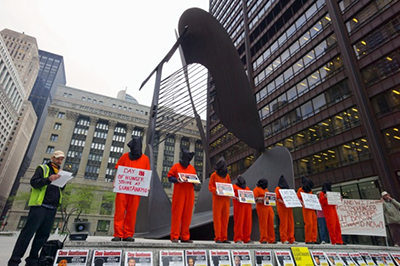 Federal Plaza/May 24th/Photo cred: FJJ
Starting this Friday the Chicago Coalition to Shut Down Guantanamo is holding vigil at State and Jackson to support the Guantanamo Hunger Strikers and to demand the Guantanamo be shut down. As each day passes the more urgent the situation for the men still remaining becomes. The only way to ensure the health and safety of these men and end the Hunger Strike is that the 86 cleared for release be released and the rest be charged and given a fair trial. It is on us to keep the hunger strike and the humanity of these men in the public eye.
Please join us every Friday at State and Jackson from 4:30-5:30pm. 
We will wear orange jumpsuits and black hoods, flyer and talk to passers by, and end with a poem from one of the men.
Please contact [email protected] for more information on how to get involved
Join the facebook group at https://www.facebook.com/ChicagoCoalitionToShutDownGuantanamo for further events.







by