Dear Friends,
I am writing with a very urgent request to help us close Guantanamo.
Please call your Representative right now via the Congressional switchboard (202.224.3121) with the following message:
"I urge Congressman/woman__________ to support closing Guantanamo. Each detainee must either be charged and fairly tried in federal court, or released to countries that will respect their human rights."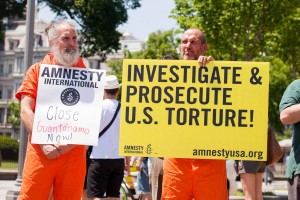 _________________________
BACKGROUND
The House of Representatives will vote this week on the FY 2014 National Defense Authorization Act (NDAA). We need to make sure that members of the House vote against restrictions and conditions on closing the Guantanamo detention facility.
We will have rolling actions the rest of the summer and fall as the NDAA moves to the Senate and eventually to the President.
####                                                                                                                                   
Thanks, 
Carrie 
Carrie Neff Maley 
Human Rights Campaigner 
Amnesty International USA
To see the Close Guantanamo Now! campaign follow:







by