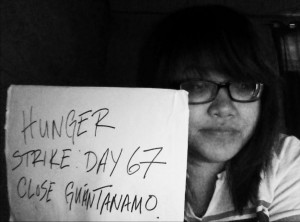 Fasting since July 7, 2013
Update: Palina has concluded her fast after realizing both web editors of CG.net can not be starving. She is thinking of becoming a raw vegan–a step down from fasting.
Palina Prasasouk is a thirty-three year old independent filmmaker/photographer, native of Falls Church, Virginia who currently resides in Des Moines, Iowa. She has worked with three-time Emmy winner and documentary director Linda Ellman (On Native Soil).  She is one of the faces behind the CloseGitmo.net website and Witness Against Torture . Like many activists she is also an idealist INFP.
She attended her first fast in 2010 with Witness Against Torture in Washington D.C. where she went on to fast for a total of twenty days. She is also a former member of the Iowa Anti-torture Coalition. You can view videos from the weekly protests here. Most of her activism now takes place behind the scenes through a computer or a lens.
She will be observing Ramadan on a liquid only fast in solidarity with the Guantanamo  Bay hunger strikers. You can follow her fast at http://palinaprasasouk.tumblr.com/.
---
 Why I'm fasting:
"I never liked politics or even hearing political jokes. I still don't, but have come to learn that politics and current events are completely unavoidable. After doing some research, I learned about covert wars, corrupt corporations, and stories of detainees being picked up for bounty. I just couldn't go on enjoying my life knowing all this bullshit was happening under our noses. Guantanamo is a place people, thanks to Obama, thought was shut down. Stories of detainees both gone and currently locked up are so horrific they need to be heard. GTMO is also a place that people think they can not shut down, because of this I feel a greater responsibility on my shoulders.
I signed up for the WAT Rolling Fast on Sunday and decided to continue indefinitely. I would not call myself a "hunger striker" because I am free, the detainees are not. In retrospect, the detainees could end their hunger strike at anytime, but I feel this is their only option. It's the last hunger strike.
This is a personal experience and a test of discipline that will hopefully, make me feel closer to the detainees. Something that won't directly close down GTMO. I wanted to remain anonymous, but I might as well make something of it and use  it as a gateway into conversations about the GTMO hunger strike which is now entering its fifth month. Though I am atheist and won't be praying to Allah, I believe in humanity and solidarity. This is for Dilawar of Yakubi and Adnan Latif , the 86 men cleared for release, and the 157 that have not been charged."







by